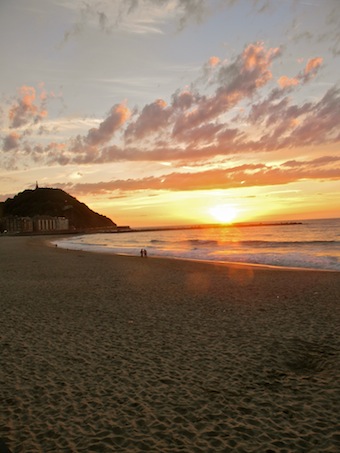 Highlights: Trips to siderias made memories that reflect in my mind like shining gold within a dusty window case. Cedar barrels stood ten feet above my six-foot-two-inch frame. Cider poured as the gilt stream rushed from the spout to the glass in my hand being held a newborn's hair length from the ground. The crowd of locals surrounding me rarely spoke Spanish, all of us crammed and buried amongst the rustic plastered walls and scratched wood beams. The lyricism of hard consonants from Basque being spoken serenaded my ear. Sipping la sidra, the air was thick with passion and camaraderie. The steak that was served at each table was purple, rare. With one bite, I finally sensed the sense of beauty that can be discovered upon a tongue. As I indulged in the meal of bacalao (cod), and blood sausage, a plump, old man visited me at my table, his beard a thick white forest.
"¡Salud!" He shouted, raising his glass of la sidra toward me."¡Salud!" I shouted back.
The evening felt like a Thanksgiving feast with a family I hadn't seen in centuries.
It was the peace I found in the Basque Country that still I search for in my home amongst Sierra pines and desert sage. Days began with walks along la playa. Afternoons were spent in my classroom, our classroom. There, people who were strangers, people who I'd hesitate to greet in passing, soon became more than just friends abroad, but family. Evenings were everlasting. From savored tastes of the campero resting upon my taste buds, I was blessed with the opportunity to devour such foreign, yet impeccable treats of simple food. The grains of Zurriola Beach's sand beneath my feet flooded space between my toes, its warmth soothing my soul as if it were my own mother's hug. These days, our days, were peaceful because for the first time in my life, I had felt perfection.
On my final evening before departing the foreign land that became my home, I peered toward the Atlantic's horizon, staring eye-to-eye with the homeland I once knew. I felt sadness begin to pierce my heart. Sitting atop the beach, at the Zurriola Bar, I tried to enjoy my final sips of calimotxo (red wine and cola), but the tastes became unusually sour. Not because of its contents, but because of those buried within me began to flush to the surface of my soul. Glaring out upon the coast, where ocean meets an orange sky, I knew these sights would soon become a dream. O, had My life become ever so changed! Taking my final gulp of calimotxo, I stood from my seat. Taking in one final glimpse of the Basque sunset, I discovered, the sun brightens the world the same as it does back home in Nevada. Yet, the way its sets upon this land of green, the way it sets over rustling waves, and the way it sets upon me is a way that each seeing eye of life, beating heart of life, and breathing lung of life should feel for just one day, to comprehend the meaning of why we live.
Morning: The sun brightens the world the same as it does back home in Nevada. It rises from the east and sets in the west. Yet, each morn I arose from my twin bed amongst the small, but cozy four bedroom apartment, I parted my cracked, wooden shutters like a curtain, unveiling a glimpse of eternity. It was those mornings when the sun shun upon my balcony I felt as if the warmth upon my soul, like a blanket of steam, would linger, everlasting. No alarm was needed to immerge me from my bed. It was the playful screams and laughter of Basque youths in the pre-school below our apartment, outside my balcony, that brought me alive from peaceful slumber to immerse into the culture that was not of my blood, but became of my heart.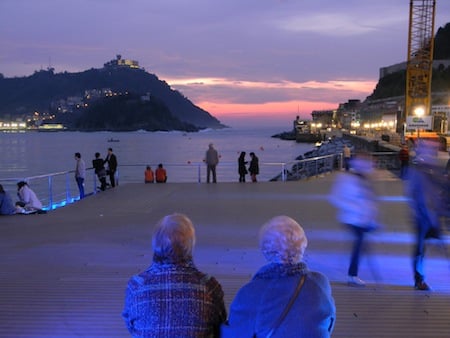 Afternoon: Some days, bikes were ridden. On others, our legs carried us to and fro the campus of the Basque Country, passing soft sifted sand from La Concha, as it rested patiently as if the beach were awaiting a long, but not forgotten return from its child gone at sea. Vast hills saturated with various shades of green rode across the horizon. Each day's journey to class was as if we had walked amidst Monet's canvas.
A classroom of seven laughs, smiles, and eventually friendships were exchanged. Learning the Spanish tongue was a struggle for each at one point or another, but we were never disengaged. Marina, our professor, studied our speech as if it were her own. After five months, I had developed into a Spanish speaker. As I turned toward the classroom door on the final day of our studies in the Basque Country, a sudden chill of sadness struck me like a bolt of lightning illuminating against a sky of fishermen's delight. Holding back tears, I hugged her and she hugged me. "Don't forget what you've learned," she whispered.
Evening: My new friends and I glided over crashing waves on the shoreline as if we were birds, our wings spread free, diving into the ocean beneath. Salt from the Bay of Biscay's Atlantic waters flushed through my gums and teeth. After nearly an hour of surfing the tides with our bodies, a couple more were spent intermingling competition and conversation. Walking toward the top of the Zurriola Beach, I'd lay down to rest my fatigued body. Lying, our friends from the Basque Country would join me, as we stared at the vivacious orange sky in the day's setting. After a few moments of catching my breath, our Basque and USAC friends enjoyed a match of volleyball. As I leapt to save a ball from hitting the sand, I felt bits of grain fill my mouth. Having been unsuccessful in returning their shot, I stood, dusting myself. That's when I heard laughter echo. One of our friends pointed, saying a remark in Basque. Though I did not fully understand the language, I too began to laugh.
As darkness filtered across the horizon into the view above, we'd all make a final stop until we returned to our homes to finish our evening assignments. To me, Campero made the best B.L.T.-like sandwich I'd ever eaten. To others, it was the campero con pollo or con carne that became the staple in their diets. It was at Bar Campero, overlooking the Zurriola Beach, where nothing stands in view of the horizon other than Atlantic seawater and a lit statue of Jesus Christ upon the hill overlooking the city, where I ended my days. Days filled with wonder, intrigue, and above all, utter happiness.