What originally inspired you to teach in Vietnam with Smaller Earth?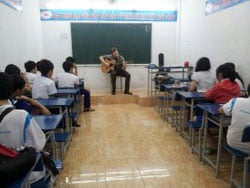 Josh: I was always told I was a bit of a scholar and that teaching would be a great job for me to do. After doing school courses in Canada, I found that I did not want to be tied to one place in particular. So, upon completion, I started looking abroad for teaching in other countries. Originally, I wanted to teach in the Faroe Islands north of Scotland because I wanted to distance myself from everything that is familiar. However, it seemed to be a bit too hard to get started in that small country. Next I took to the internet for internship programs to get my foot in the door. I stumbled upon a few websites and what not but finally found a company to go with that would take me to Vietnam after many questions. The rest they say, is history.
Describe your day to day activities as an teacher in Vietnam.
Josh: My day to day teaching activities involve getting up and teaching my 3 or so classes that day Monday to Friday. I arranged to be off before lunch so I work hard in the morning, and play in the afternoon and see my new friends. Every Wednesday, the school arranges trips to the Football (soccer as we say in North America) arena with the students and I attend that as well. Also, sometimes there are day trips to amusement parks and in all, it is a ton of fun. Lots of good hangout spots around the town after work and tons of opportunities to do things around Holidays such as Christmas. Always have felt at home.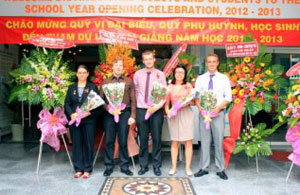 How has this experience impacted your future?
Josh: This experience has profoundly impacted my future for the better. Personally, it made me a better person and I am able to do things that I never have such as public speaking. Professionally, it made me more aware in how your actions can affect someone. Academically, I learned more about the language than I have ever thought even being the teacher. You have to provide answers to the students if they ask and most of the time, I need to ponder the building blocks of the language and give the student a suitable proper answer.