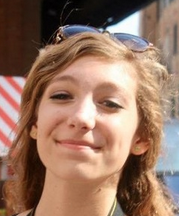 What city did you choose and why? Why did you choose SPI?
Kaelyn: I chose Siena because I have always wanted to go to Italy and because my family is from there. Also, I have always been interested in Italian culture and language! My Latin teacher was the chaperone for the trip and when she told my class about the trip I knew I had to go!
What made the experience unique?
Kaelyn: I loved staying with a home-stay family. It really showed me what the daily life was like in Siena. I loved getting to know them. They were so kind and nice and it really felt like a home away from home. It really helped with the homesickness I had!
How has this experience impacted your future?
Kaelyn: This trip has had a huge impact on me! I would love to study abroad again in college and spend a semester in Italy. I would also love to tour all over Italy and visit my family that lives in Bassano, Italy. I plan on becoming fluent in Italian, and I will have memories from this trip that I will never forget, as well as friendships that I hope will last forever!
What was the highlight of your trip?
By far the best part of the whole experience was meeting new people. The wonderful friendships I have gained from this trip are amazing and I talk to all of my friends from the group almost every single day! I loved meeting local people and learning their everyday lives! My family is from Italy and it was amazing to see where they came from! The academics were great, I loved learning the language, and it is something that I plan to continue and learn fluently! Plus the food…amazing!!
What is a typical morning like for you?
A typical morning for me in Siena was waking up for school (hopefully not too late). Luckily, my roommates would encourage me to get out of bed. Then I would get up and go to the kitchen for breakfast. Every morning, my home stay parents would set out bowls with different cereals in them, which we could choose from, and a kettle filled with hot milk to pour into our cereal. I was not used to this, but it was delicious! They would also put out another kettle with coffee and small Italian toast squares with homemade apricot jam.
Then after finishing breakfast my roommates and I would get ready and walk to school! It was a very lovely walk and it took about 15 min at most (depending how late we were and if we had to run there!) We would then get settled into class to start the great day ahead of us!
Afternoon?
On the weekdays my typical afternoon was spent in school studying with my very nice teacher, Silvia! We would have different topics and lessons that we would learn each day. It's surprising how much you pick up in such a short time when you are being submersed in the language! We got a short break in the middle of class for lunch and my friends and I would all walk to a small fruit market in town and buy delicious fresh fruit for lunch or a small pizzeria where you could get a slice for only a euro!
We would then return to class for the 2nd half of the day. On weekends we took many trips, whether it be touring within Siena or venturing out to Florence or San Gimignano by bus! Going to all the museums and tours was so interesting and allowed us to learn about all the culture and history!
Evening?
After school or whatever excursion we had that day, we would all head back to our houses and take a rest, my roommates and I would all write down that days activities in our journals to keep track of everything. If we had extra time before dinner we would finish our homework that we had gotten assigned that night (which usually wasn't that much, just a small activity to review what we had learned that day) or we would walk around town and visit all the small shops!
Sometime we would meet up with other people in the group in the town center (called the Campo). We would all be back at our house around 6:00-6:30 to eat dinner with our families. My home stay mother was an amazing cook and she prepared the best meals every single night! Coming from an Italian family I can eat A LOT of pasta and the other girls in our group struggled to finish the giant bowl placed in front of them!
After our first course of pasta we had a second course of vegetables and meat, then a final 3rd course of fruit. After dinner, if we had enough time, we would grab some gelato and hang out with friends. We would come home finish up any homework or write in our journals then we went to bed!