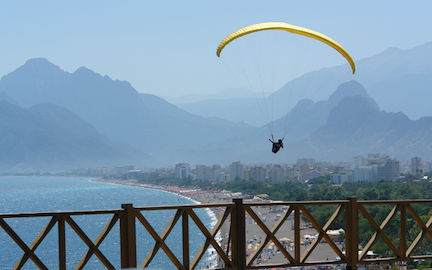 Why did you decide to study abroad with Babel?
Bence: I found Babel on the internet. The reason I chose Mehtap was because of her flexibility, since she allowed me to focus on my needs during learning. I didn't regret it of course, because we work very efficiently together. I started with her in March, 2012, and I'm still there as much as I can, depending on my free time. I already studied abroad, but the local university could not offer me enough. I was not too satisfied with the education. Language learning in big groups (15 people) was not for me. This program separated different people with different levels, which seemed much better.
What made this study abroad experience unique and special?
Bence: I can learn the language at the exact place where it is spoken. That is a big advantage. After 60 minutes in the classroom, you just go out to the street and you say "Hey, I can understand what she just said on the phone or what a street seller just shouted". That is really cool because I used to learn English and Spanish in my home country. Mehtap is a great teacher, and the classroom atmosphere is really friendly. Students usually meet there to drink some tea or to have a chat about everyday life. It's a really great place to study, honestly!
P.S. Her lovely mom always brings some biscuits or a glass of tea, so it's really cozy there, I must say.
How has this experience impacted your future?
Bence: Thanks to Mehtap, my Turkish has developed so much that I can finally work in Turkey. Many times I had to handle really tough situations by speaking only in Turkish (calling Turkish Airlines about a lost luggage, changing flight tickets, or translating for hotel guests). I think it's pretty impressive that I can do this this after only 1.5 years.
What was a typical morning like?
I was really happy when I learned that here in Turkey, people start working/studying at 8:30, because in my country, unfortunately, we normally start at 7:30 or 8:00. However, the other thing that I didn't really like was the extremely high temperature (35 degC) starting already in the morning. So everytime when I took that 800 meters trip to my language faculty in the mornings, I felt like I was in hell. When the lesson started, the teacher switched on the AC so in 3 days I got ill. Later in fall, when I got used to the local climate and it was not that hot anymore, everything was fine. I really loved studying in this university because I loved the atmosphere and that fact that I could hang out with other foreign people was just fantastic.
Afternoon?
Turkey is one of the most relaxing countries that I've ever seen in this Southern area. If you come to Turkey, forget such words like "rush, being on time, precision, being nervous". That was not easy for me at the begining at all! Wherever I wanted to go I had to face Turkish slowness and unprecitability. There are no bus schedules or bus numbers at the bus stops. I really needed to get used to this, and honestly I hated it at the beginning since I couldn't plan my afternoons. I was just standing at these bus stops, seeing that there were hundreds of tiny buses (dolmus buses) with crazy, totally illogical numbers going everywhere: to the right, to the left.
Evening?
As I said, in Turkey there's no such thing as time. No one is worrying, so I usually killed time with my friends outside on my balcony, drinking beer, discussing cultural differences, Turkish language, etc. That's what I really like in Turkey--that everyone is so easy-going. If you just call your friend, and say "Hey, wanna drink some beer, coffee, or tea?" , they are in your flat in 15 minutes. In Hungary or in any other European countries, they would say "Yeah mate, but... I'm kinda busy right now, how about next Friday, I think I can make it then". Well, not in Turkey. Here, people are extremely warm-hearted, helpful, and talkative. You can make incredibly awesome friendships, because in this country, this word still has way much more meaning than in the Western- World. Chill out, enjoy, discover. It's Erasmus, you're European, they are interested in you, you are interested in their culture, no rush, just fun, and plenty of nice people from everywhere. I think that's what evening means here.
What were the highlights of your trip?
Well let me start with the academic part. I didn't want to come to Turkey. I used to speak Spanish quiet well, so I wanted to go with Erasmus to Valencia to one of our partner institution. Now I say luckily I didn't get it, as the school couldn't take more people from my school. My parents and my Turkish friends convinced me to come to Turkey, but I was still really career-centered. I really wanted to go to Western-Europe. I wrote an e-mail to my coordinator, that I want to go to Belgium, to the heart of the European Union. I almost sent the message, but in the last second I changed "Antwerp" to "Antalya". It's funny because it was in 2011 and I'm still here, although I was against it at the beginning. I got some news about this EILC language course, so I bought the flight ticket to Antalya, and after a one-week holiday, my Turkish book was in front of me.