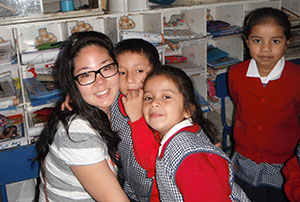 Why did you decide to volunteer with CCS in Guatemala?
Sarah: I've always wanted to travel abroad and I felt that volunteering with an organization might be the most rewarding/safest way to accomplish this. CCS offered a unique opportunity where I could learn and be a part of the culture as well as give back by help make a difference in the lives of others.
Describe your day to day activities as a volunteer.
Sarah: My volunteer placement was at a school for children ages 3-6yrs. I had signed up for a one week program with CCS, and the assignment that was given to me was to help complete a mural to brighten up the school's appearance. This was a great project as I was able to see the project through.
Secondary to the mural, we were able to assist the teachers during class time, handing out material, sitting with the children helping them through exercises, etc. After 3-4hrs at our placement every morning, we would come back to site for lunch and CCS would provide an activity such as a field trip around the city, cooking class, Spanish lessons, etc. The great part of joining a program like CCS is that your days are structured but also you are given free time to do what you like.
What made this experience unique and special?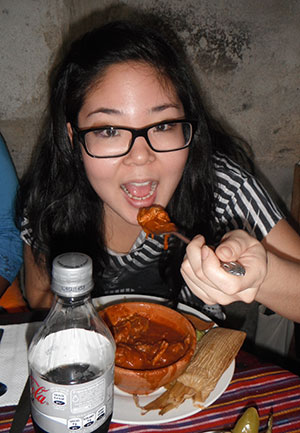 Sarah: This trip has been quite an experience. It was my first time not only volunteering abroad but traveling for a cultural experience rather than relaxing in a resort. This type of vacation is much more rewarding. Not only was I able to be apart of making a difference in the lives of the children who went to this particular school, but I was able to learn and be involved in new cultural experiences that I would not have gotten back home.
Before going to Guatemala, I knew nothing about their history, the people, how they lived, etc. Coming here, CCS provided me with a chance to see the country almost in the eyes of the people who live there. Walking to the markets, getting a tour of the different zones gave me an insight on how Guatemalans live on a daily basis.
How has this experience impacted your future?
Sarah: I feel like this experience has proved to me that I am more open minded and courageous than I give myself credit for. I climbed the Pacaya Volcano, traveled through local markets and Antigua, wander through Mayan ruins, etc. To see that I have set a goal and can achieve it makes me feel accomplished and determined.
This has been the first time I decided to venture out and explore on my own and CCS made me feel welcomed and safe while I was there. Although my volunteering abroad does not have a direct relationship with my current career choice, it has lead me to believe that I can enjoy both. I can definitely say that I look at the world differently now because of this trip and would love to continue volunteering abroad.