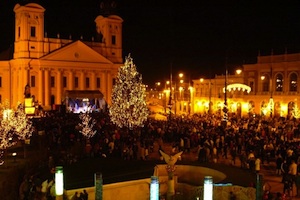 Highlights: So far the highlight of my experience has been working with my very gracious colleagues here in Debrecen. They are helpful, pleasant, welcoming, and available. They bend over backward to answer questions, invite me to dinner, make sure all is well and I have what I need. The students also have been, for the most part (students will be students!) dedicated, hard- working, and well-mannered. But I'm quite convinced that the best is yet to come as I continue to explore this very fascinating part of the world.
Typical Day: My typical day is somewhat different from a secondary or primary school teacher.I teach three university classes: Intercultural Communication, Professional Communication, and Advanced Conversation. Some meet twice a week and some meet once a week for 1 ½ hour sessions. I end up spending about 20 hours a week teaching and two or three hours in
preparation for each hour in the classroom – so it's a full-time position. On average I teach
mostly in the mornings and do prep work in the afternoons. I have an eight o'clock class every
morning except Friday and I have one evening class that meets on Thursday.
Mornings/Afternoon: On weekdays, I get up every morning at 6 a.m., have breakfast, get ready and leave the flat at 7:30 a.m. I live about two blocks from my office and class room so I walk to work. My flat is in an old Soviet style concrete block building that is gradually being renovated. But my apartment has hard wood floors, is modern, newly refurbished, clean, and sunny. Debrecen is a small city and traffic is brisk with people going to work and dropping their kids at school.
There's a busy bus stop right in front of my building. When I reach my office, my classroom is always locked so I must get the key from the doorman and open it. It looks like a typical college class room – very little ornamentation, a whiteboard, desks and chairs.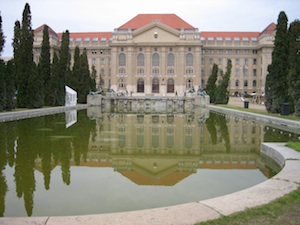 This semester I have managed to schedule all my classes in the same room but this doesn't always happen. I have an LED projector, speakers, and internet access but my particular room doesn't have a laptop, so I bring my own when I need to use the internet. After classes, I may stop by the Department office or my office to take care of mail, have an appointment, or do paper work. If I don't feel like lunch at home there is a great Gyro place, a Langos shop (deep fried bread with cheese and sour cream), or a deli at the nearby HUGE supermarket. Typically, I stop by my small neighborhood grocery, since it's right on the way home, to pick up what I might need for dinner. Hungary has excellent wine at very reasonable prices. It's best not to buy things in bulk as Hungary doesn't put preservatives in the food so most things need to be eaten fresh, within a few days. For example, potatoes and carrots will grow as they are not sprayed with a retardant. It's organic and no GMO's.
Evening: In the evenings, I love to cook so I try out Hungarian recipes while I watch the BBC news or listen to my hometown radio station on the Internet. After dinner it's possible to go out for a movie, a program at the American Corner (an extension of the American Embassy) or an exercise class; but I also like to read a book or watch a movie on my computer – especially in the winter when it gets dark at 3:30 in the afternoon!
Weekends: On the weekends there are things to do in Debrecen. There are two big malls within a 10 to 15 minute walk, there are Palinka (Hungarian brandy) festivals, name day festivals, music concerts, an opera house, Christmas markets, flower shows, livestock festivals, ice-cream shops, pubs, clubs, sidewalk cafes, flower gardens, spas, a zoo, hiking trails through the forest, a lake, gyms, museums, beautiful churches, a cultural center with changing exhibits and programs. Or if you wish, you can buy a train ticket for $15. and be in Budapest or at Lake Balaton in 2 ½ hours. I have done all these (except Balaton). During school breaks some of my fellow CETPers have visited many of the capital cities of Europe such as Rome, Warsaw, Prague, Vienna, Paris; but I am saving that for next year when my husband will join me on this great European adventure.