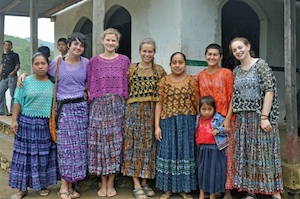 Why did you decide to volunteer with Operation Groundswell in Guatemala?
Lilly: I decided to volunteer abroad because I love to travel and explore new places and cultures. I also love to volunteer but in the past my travels have been limited, so I thought I would expand my horizons and go abroad. My friend previously had traveled to West Africa with OG and absolutely loved the experience, people, atmosphere and the volunteering. I did some research on the other programs that they ran and decided the Guatemala was the best trip for me.
Describe your day to day activities as a volunteer.
Lilly: Day to day activities for volunteering in Guatemala consisted of a few projects, one was to help build a community center in a small village called Tzibal. This center would consist of a rec-center for soccer and "pilas" or washing stations so the community can use them for laundry or washing produce for meals. The center would also provide enough room for activities such as town meetings. Outside of the center we designed a Bio-Dynamic garden so that the children of the village could learn about nutrition and how different plants interact with each other. On days when we were working there, we planned out the gardens. We also worked on leveling the site since the village is located in the mountains.
Lots of hard work and good manual labour was put in the village, which made it an amazing experience. The beautiful weather and sunshine was an added bonus too. Also, we worked with women's cooperatives and learned all about back-strap weaving and embroidering which is a beautiful art that is deeply routed in the Myan culture. We also worked with coffee farms to learn about all the various steps involved with growing the beans from the farm planting to the roasting.
What made this experience unique and special?
Lilly: One of the things that made this volunteer experience so wonderful was the people on the trip. Everyone was like-minded, outgoing, funny and compassionate. This made the trip easy and enjoyable. I also loved the fact that the program was full of so many different activities including both volunteering and leisure opportunities. Also, this program was fun in the sense that you got to see things through the eyes of the locals. It really is an experience to be had!
How has this experience impacted your future?
Lilly: This experience has impacted my future in so many ways. It showed me a completely new way of traveling, volunteering and exploring. It made me realize that this is something I would like to do much more in the future, both near and far. The program also fueled my need for exploration in the culinary world, as I am a chef and experienced so many wonderful flavors and dishes I had never tried before. Needles to say I brought home many recipes and and always on the lookout for such ingredients here in Canada.