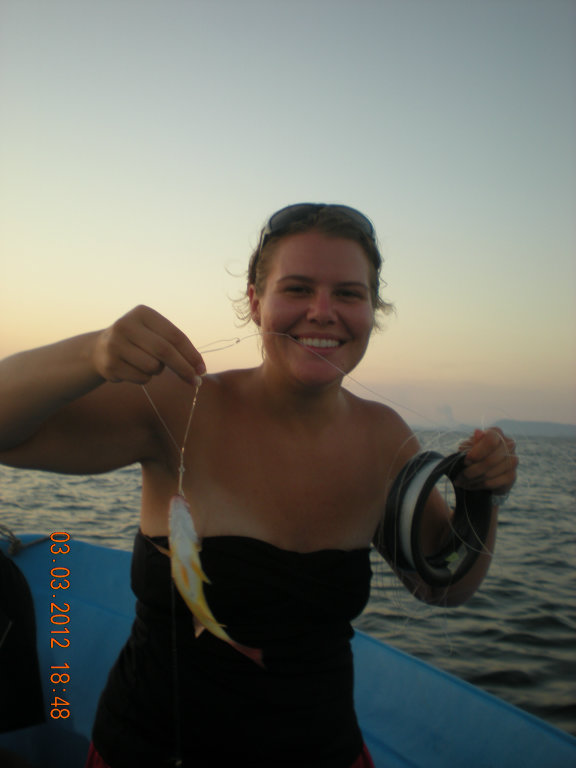 What city did you study abroad in and for how long?
Carolyn: I chose to study in San Joaquin de Flores because it is a small town and I was a little skeptical of going to school in the capital city, San Jose, because of its size. I attended school for a total of 16 weeks, but the entire program was a little over 18 weeks. (The first week in Costa Rica was spent with the leaders of API touring and getting to know different cities near San Joaquin, including San Jose. The other week was our week-long spring break from classes, when many of us traveled to Panama.
Why did you decide to study with API?
Carolyn: I chose API because it was recommended to me the most by students that had already studied abroad. I was told API had great excursions and was very organized. Also, API offered a program that lasted an entire semester whereas the other programs I looked into offered sessions of only a few weeks.
What made this experience unique and special?
Carolyn: This experience was special in so many ways that I can hardly remember all the amazing things we did! Since the first night we were in Costa Rica, I taken aback. We were taken to the top of a mountain to an amazing restaurant with an unbelievable view. I was stuck there in awe the entire night because we could see the lights from almost the entire Central Valley sparkling in the night, and in the distance we could even see fireworks. Throughout the time span, we were also able to visit a coffee plantation and witness each stage in the process of coffee beans. various volcanoes, national parks, beaches, waterfalls, and the different major cities. One of our weekend trips was to Nicaragua, and for our spring break we traveled to Panama, where some snorkeled and some scuba dove!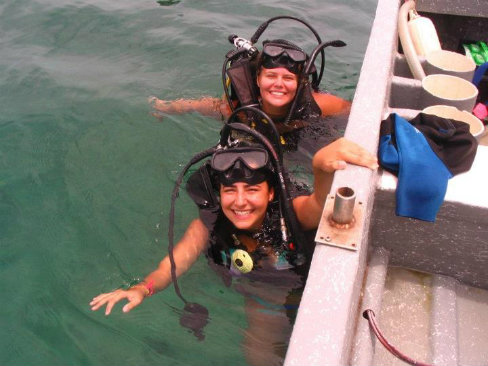 Besides the traveling that we did, each and everyday spent with my host family was an experience in itself. Each morning I woke up to a cup of coffee and either some toast or fresh fruit waiting for me. I would come home from class for lunch and supper and all I had to do was say when I was hungry and it was served to me immediately. The conversation around the table was also very informative, and that is where I probably learned the most because it was a real-life situation and at a fast pace, not slowed down for convenience in a classroom atmosphere. I had two siblings and many aunts, uncles, and cousins that all lived in the same little complex, so there was always someone to talk to or play with when I didn't have to be in class. I bonded so well with them I still keep in contact with them one year later, and I am even planning on visiting before the year's end!
How has this experience impacted your future?
Carolyn: Personally, I have grown so much more confident since studying abroad. I made it through four months of living in a foreign country, so I now know I can handle almost anything. I was forced to talk to many new people even when I was self conscious and afraid. As for my future, I think this study abroad experience will prove to be very influential. I am now more open and accepting of not only other races and cultures, but also other beliefs, rituals, etc. I was forced to step out of my comfort zone, so as I venture out on my own and take a professional role, I will be better able to accomodate others when they are uncomfortable.
One dream that I have developed is to go back to Costa Rica once I am a Chiropractor and educate the people there. My host mom suffered from a terrible back condition that left her in bed, unable to work, many days during my stay there. She has suffered for many years because she works as a janitor in a high school. I mentioned that I was going to be a Chiropractor and the thought scared her because of what the medical doctors had told her. They advised her to NEVER see a Chiropractor because they would worsen her condition and only prescribed more and more drugs to reduce the pain. I was so shocked to hear that because of the many benefits associated with frequent chiropractic adjustments. I would now like to go to there a couple times a year in order to change their whole idea and negative attitude towards Chiropractic and show them that it doesn't only deal with back pain, but also has influence on the body as a whole. I believe that if I go and teach about my profession and help people through Chiropractic adjustments, it would be a great way to give a little something back to the people that accepted me and gave me so much during my stay in their community!