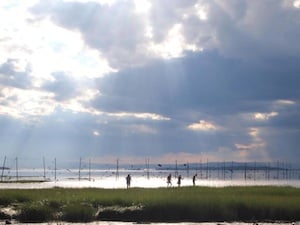 Why did you decide to volunteer with Volunteers for Peace in Canada?
Emma:This was my third project through VFP--my first was in 2007. I had previously volunteered in Europe, and I wanted to have a similar experience in a francophone region, closer to home. The projects are affordable, and offer a wonderful way to meet new friends and get involved in small community projects.
Describe your day to day activities as a volunteer.
Emma:The activities consisted of various jobs that needed to be done for the community. The biggest undertakings were painting two huge signs for the community sports fields, and constructing a new ramp, to make the community center wheelchair accessible. We also did gardening, landscaping, and exterior painting.
What made this experience unique and special?
Emma:This project brought a group of fifteen international volunteers to a tiny rural town in Quebec, that would never experience such diversity, otherwise. Being a fairly isolated location, I found that the intercultural exchange between the volunteer group and the local community to be immensely rewarding. The location itself was also stunning, as it was just a few miles from the Saint-Laurent. In our free time, we were able to visit a provincial park, see waterfalls, swim in rivers and lakes, and take beautiful hikes.
How has this experience impacted your future?
Emma:As I've been involved with international voluntary service for over five years, now, these experiences have truly shaped the way I learn about and continue to explore the world around me. I continue to volunteer, locally and internationally, and have found employment in the non-profit sector.