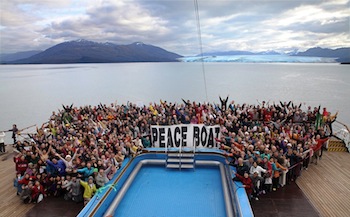 Why did you decide to study abroad with Peace Boat?
Chris: I had a long-running fascination with Japan and ocean travel, and had been involved with 3 different Semester at Sea voyages on the MV Explorer. Peaceboat had more opportunities for hands-on development projects and self-designed initiatives, amazing guests and networking channels, and functioned more as a floating NGO. It attracted me because of its history and mission.
What was the best place you visited with Peace Boat and what made it so special?
Chris: We spent a few days exploring the Patagonian fjords near Cape Horn at the bottom of the world. It was truly better than any experience you could have traveling on land to explore such magical worlds of ice and mountains and forests, and afforded some spectacular views of the earth impossible to access from land.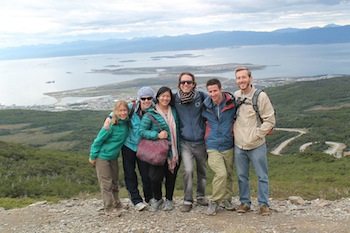 If you could do-over one thing, what would it be?
Chris: The whole voyage. It was some of the best days of my whole life, and enormous in its impact on my future, knowledge, and opportunities.
Favorite souvenir?
Chris: I got married by the captain, with all our friends and crew, on the equator on a boat going around the world to the most lovely girl on this planet, who I'd met 4 years earlier. So I'd say that my partner and love is the most favorite souvenir I brought back from Peace Boat.