Why did you decide to study abroad with CISabroad?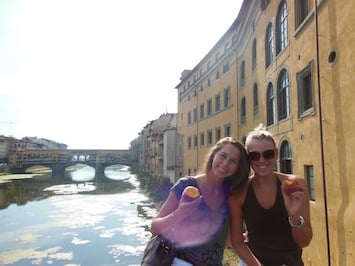 Brooke: One of the reasons I chose to study abroad is because I have an older sister who had studied abroad in Athens, Greece and had a great time. She used a different study abroad program than CISabroad but they were very similar.
I chose CISabroad because they were affiliated with my college at home and I would be able to pay my school directly and the grades transferred back. My parents are the type of people who require me to do my research before presenting them with a big decision, so I made sure that I knew my facts and figures before telling them about studying abroad.
I loved that CISabroad had tons of options on places to study. I knew I wanted to go to Italy, but they had many places I could go to, such as Florence, Rome, and Perugia. I chose Florence because it was not as small as Perugia, but not as big as Rome. It was the perfect happy-medium!
What made this study abroad experience unique and special?
Brooke: What made this study abroad experience special for me was that I had never been to Europe before. Italy is very central in Europe, so traveling to other countries was a breeze! I went to Munich, Germany for Oktoberfest, Ireland for fall break, and Switzerland and Austria for weekend trips. Many students did way more traveling out of the country than me, but I focused on traveling around Italy. I went to over 15 cities within Italy alone! What also made this trip special for me was the friends I made. I did not know anyone when I arrived, but I left with friendships that I know will last a very long time.
How has this experience impacted your future?
Brooke: Studying abroad really helps give you a competitive advantage at a professional level. Being a business major, I took International Marketing so I could apply what I was learning to real life situations. When applying for summer internships, many of my interviewers had studied abroad also which helped me form a connection with them. Studying abroad also helped me mature through being taken out of my comfort zone. I used to be a girl who worried about everything, but studying abroad made me realize that I can do a lot more than I thought!