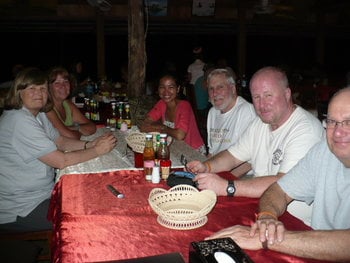 Why did you decide to volunteer with DWC in Cambodia?
Robert: I volunteered to go to Cambodia with Developing World Connections for two reasons. The first was to be able to return to the country that changed the direction of my humanitarian work. The second was to visit four of my sponsored children with World Vision.
Describe your day to day activities as a volunteer.
Robert: My group had the good fortune of staying at a beach house in the Kep Province of Cambodia. Each morning started with a variety of domestic and Western items served for breakfast. Then we went to the worksite, where we were building latrines. Though none of us had ever been great brick layers, our Cambodian partners soon taught us what to do. By midday, we would stop for lunch at one of the refuge centers where our overseers would prepare a remarkable lunch. Then back to work and by 4 o'clock or so, we would call it a day. After relaxing by the pool, we would go for dinner around 7 o'clock. This concludes the first week of my trip. During the second week, we were building irrigation ditches. Nevertheless, the timeframe we spent on the site and daily activities were similar, only the work was different.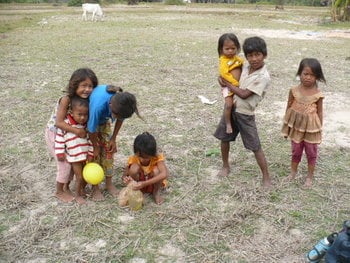 What's something interesting about Cambodia that the average person doesn't know?
Robert: I discovered so many interesting things about Cambodia and the people who live there. One of the things that the average person would not know is the vast selection of food in Cambodia, which was absolutely delicious. Also, most people do not think of Cambodia as a holiday center. The historical sites and the beautiful beaches are just two of the things to see in Cambodia.
What was the hardest or most challenging part of your experience?
Robert: One of the hardest challenges was the extreme heat at that time of year. Also, it was difficult to see the extreme poverty, not only in Phnom Penh, but out in the farms. It is very tough to live in a country, such as Canada, that has so much and provides a quality life and then go to a country where the people in the farmland do not have toilets and have to wash themselves with no privacy.
How has this experience impacted your future?
Robert: I felt that this experience has only renewed my never-ending desire to work on humanitarian efforts and aid people that have so little in material things, but have so much in spiritual ways to give to others. This trip has renewed my passion to help create a level playing field for Planet Earth.