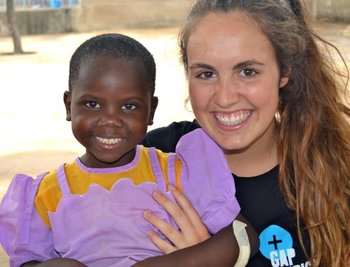 Why did you decide to volunteer abroad with Gap Medics in Tanzania?
Adelaide: I've been interested in studying medicine since I was about 15, but I've also been passionate about foreign aid and health and human rights equality for as long as I can remember. When I heard about GapMedics it felt like someone had designed this program especially for me. I was so excited by the opportunity to experience what it's like to work in a hospital in a developing country, and just to visit a country so different than Australia. I was also really keen to share those experiences with other motivated and inspiring future doctors, nurses, midwives and dentists. The program also looked really well organized and safe, which was a big factor for my parents! It was also something to look forward to while studying for my Higher School Certificate.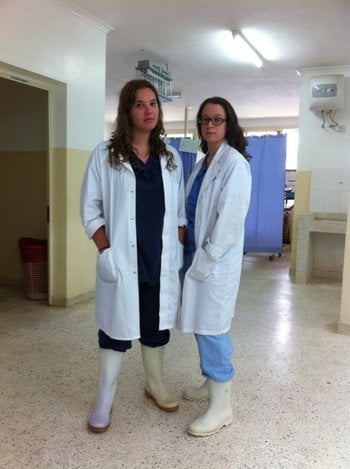 Describe your day to day activities as a volunteer.
Adelaide: A typical work day at the Rock House was long and challenging, but so much fun and so rewarding. Each morning I'd wake up to the sound of the Muslim call to prayer followed later by the bells of the local churches. Breakfast was early, 6:30am most mornings, organised by our resident chef/soccer champion Akiba. At 7:15am we'd all leave the house to walk to the hospital, which usually took 20-30 minutes. Morning meetings at the hospital started at 7:45am, after which we'd begin rounds in each of our departments. This part of the routine changed everyday depending on which department you were in and what was happening in the hospital.
The hospital days finished at about 1pm, after which we'd either head into town to have lunch at Neema's or Warthogs, or we'd walk back up to the house to have leftovers. On Tuesdays, Wednesdays and Thursdays, we'd go back to the hospital at about 3pm for a lecture with one of the doctors. The various topics ranged from burns to postpartem heamorrhage to bowel obstructions, always followed by a walk through the wards to observe whatever we'd just learnt.
After lectures we had the rest of the day to ourselves to shop or head home or sometimes to go back to the hospital. Somedays we'd climb Gangilonga rock, play soccer at the church field, go to the orphanage or do touristy stuff. Dinner was at 7pm and was always a highlight. Akiba really is an amazing cook! After dinner we'd all just hang out at the house or watch a movie. After all that, I was usually pretty ready for bed at 11pm!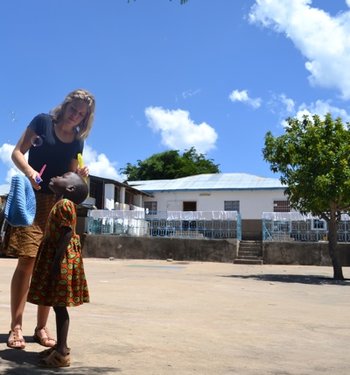 What made this volunteer abroad experience unique and special?
Adelaide: My experience was made special by the incredible people I got to spend it with, both the other volunteers, the Tanzanian Gap Medics Staff, the hospital staff and the people of Iringa. I went to Tanzania without knowing anyone else doing the program, which was pretty daunting. I had no reason to be worried, I've made some amazing friends who I'm still really close with. Looking back, I've realized how important it was to be living with other likeminded volunteers. We'd often sit around after dinner sharing stories from the hospital, researching different cases and trying to make sense of what really is a very foreign world. The GapMedics staff are the most wonderful people, I miss them all the time! Jerry and Mdoe, the program managers, were always around just laughing and joking with everyone, giving out much appreciated hugs and pulling endless pranks. Above all else, they were the most trustworthy and responsible people I've ever met. I always felt like they had my back.
Baptista is a brilliant program director and always knew what was going on in the house, and came to visit all the time just to hang out. Akiba's cooking was spectacular, and his trusty wingman George was such fun to hang out with. Katie (the night-lady) was the mother of the house, and would sit on the couch with us for ages just chatting. The doctors at the hospital were all incredible and the work they do is absolutely inspiring. Most of them made a huge effort to teach you as well as they could and to show you everything there was to see!
One of the most special parts for me was visiting the Tosamaganga Orphanage, affectionately named the Baby Orphanage. We all fell head over heels in love with the kids, and visited them whenever we possibly could. I miss them all the time; they make me want to go back to Tanzania as soon as I can.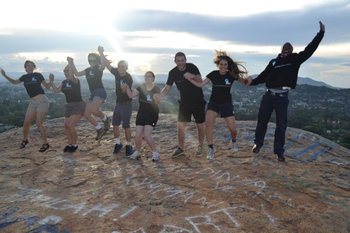 What did you wish you knew before going to Tanzania?
Adelaide: I wish I'd known how many friends I was going to make. Before the trip, I was quite anxious about not knowing anyone else. I really shouldn't have been! The nature of GapMedics is that you are DEFINITELY going to end up with like minded people, who are committed to healthcare and global health equity. Other volunteers will share your idea of a holiday as spending hours and hours in a poor, dirty, smelly hospital [totally worth it, I swear]. It was inspiring and uplifting to meet other young people who wanted to idealistically 'change the world'. I also wish I'd known more about what to wear, which was pretty difficult to figure out before I went.
The best advice I can give is to definitely follow the 'shoulders and knees' rule for both ladies and gents. We wore a lot of below the knee loose fitted skirts, collared shirts, comfortable lace up shoes or runners, pants (not jeans, not tight fitted), and boys wore shirts with or without ties, with a nice pair of pants. We wore our labcoats whenever we weren't in surgery or Ob/gyn (you wear scrubs - the most comfortable work attire known to man).
How has this experience impacted your future?
Adelaide: GapMedics has and will no doubt continue to shape my experiences and outlook. I was already pretty sure I wanted to study medicine, but I re-fell in love with being a doctor all over again while in Tanzania. I started to get a feel for what departments best suited me and my interests and began to appreciate the huge variety of jobs you can get out of a medical degree. It also made me more determined than ever to work hard and get back into foreign aid as soon as I can. I remained in contact with other volunteers and we plan to undertake future volunteer trips after we're more qualified.
I fell in love with Tanzania. I found it to be such a beautiful, rugged, organic, and uplifting environment that I could thrive in. I definitely want to explore more of Africa one day. My memories of Tanzania motivate me to keep studying, aim high and trust that helping people is by no means an impossible goal. All it takes is a quick glance at the smiling faces of the Tosamaganga orphans and I'm back on track.