What made this study abroad experience unique and special?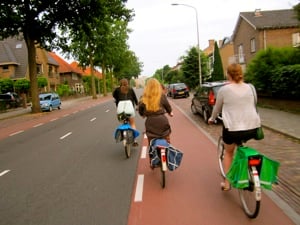 Jaclyn: ISEP is a unique program, one that assures its students have an independent experience. The program is set up so that you are constantly interacting with other international students. Not only were we gaining knowledge about our host country, but we were also learning about the many countries in which our fellow students lived. Over the course of the semester, my comfort zone expanded; I learned bits and pieces of different languages and began to feel at home with my flatmates.
How has this experience impacted your future?
Jaclyn: The semester experience has left a huge impact on my future. Upon my return, I immediately sought out ways to become involved in my university's international community. I accepted a position as a Study Abroad Peer Advisor in the Office of International Education. This allowed me to meet those with a passion for travel and a desire to help other students who plan to study abroad. Through my semester abroad and my job at the University of Vermont, I realized that I would like to continue working in this field. Also, I make sure to keep in touch with all the wonderful people I met on my trip. In fact, a few of us are planning to meet during the Spring of 2014!
What is one piece of advice you'd give future ISEP students?
Jaclyn To future ISEP students, I want to say: Take the leap. Surround yourself with unfamiliarity. You will grow from it and it will leave you feeling enriched and proud of yourself.