What made this study abroad experience unique and special?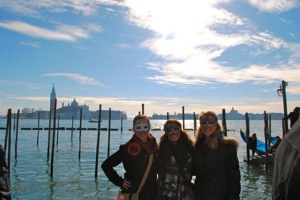 Jen: My time abroad was made special by the great connection I felt with Florence and Italy as a whole. It was a place that was so different from what I know as home, and yet I completely felt like I belonged! Being in Florence taught me an incredible amount about art, friendship, food, and living life to the fullest. I came back with wonderful memories of the people I met there: be it the faculty and staff at SACI, the new friends I made, or just the day to day people that made me feel welcome in their country.
The Italian culture is quite different from ours, and I found it to be something I admired and wanted to be a part of. In addition, being surrounded by so much history never ceased to amaze me.
How has this experience impacted your future?
Jen: My study abroad experience has definitely changed my future in a big way. For example, I know now that I have a passion for traveling that will undoubtedly cause me to venture to new places from now on. Academically, I realized how much I love photography, causing me to declare it as a minor. Professionally, it has created so many connections for me that I am sure I will make use of in the future. The people I met were extremely valuable both personally and in this respect. Also, being at SACI really gave me the confidence to show off my own artwork, something that will most likely be a great aid to me in the coming years. However, I think the greatest impact it had was creating lifelong friendships with people from all over.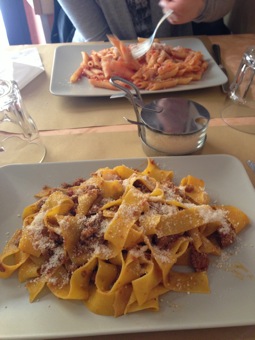 Tell us about an experience you had that you could not have had at home
Jen: There were so many things that I did in Italy that couldn't have happened at home, but one of the most memorable was going to Carnevale in Venice. That was really a once-in-a-lifetime experience. It was amazing to see all of the costumes and masks the people dressed up in. My friends and I got our own masks and joined in the celebration, watching the parades and events all over the city. Not to mention, Venice is an absolutely beautiful place and quite the backdrop for a festival. It's truly unlike any other place I've ever been to.
Describe your favorite must-have food that you tried abroad.
Jen: Considering I tried and liked everything new and different while abroad, it was hard to narrow down my favorite, but I think I have to go with Pappardelle al Cinghiale. To translate, it's large flat pasta noodles with wild boar sauce. It's unbelievably good. The sauce is cooked forever so the meat is falling apart and has mixed with the flavors of the tomatoes, red wine, and other vegetables. It's a dish really only found in the Tuscan region because that's where the wild boar comes from. I'm an extremely adventurous eater, but I truly think everyone would like this. I don't know how you couldn't! To me, there's nothing better than homemade pasta and a delicious sauce, though I do come from a very Italian family...maybe I'm biased!