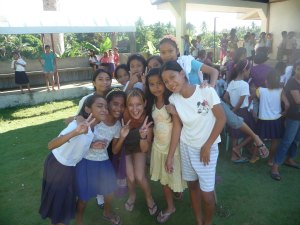 Why did you decide to volunteer with GVN in the Philippines?
Stacey: Since my first experience of jetting off with a backpack when I was 18 I have been lucky enough to travel to and visit some amazing places over the years. In 2011 I was infected again with the 'travel bug' so decided it was time for a round the world trip, a chance to take in countries I had not previously made it to and had dreamed of going to, the Philippines being one of them. This meant packing in my job and packing up my belongings, but I knew I had to do it.
I was really interested in carrying out some voluntary work whilst away, a chance to do something worthwhile, preferably working with children. In 2009 I volunteered in Nepal at a Child Protection centre and although overall it was an amazing experience I was not impressed with the company that I went through; lack of organization and support (especially as it was the first time I had taken part in voluntary work abroad), so I wanted to make sure I picked the right company this time. After searching on-line I came across GVN, they had many exciting opportunities and the Philippines day care project was just perfect for me and fitted in with the rest of my travel plans. I particularly liked the fact they used local partners in each country.
Also I found the price of the trips to be really reasonable, especially compared to similar projects I had researched. Everyone I dealt with at GVN from day one was extremely helpfully, as were those at their partner organization CERV in the Philippines. I was given plenty of helpful information and support. I certainly picked the right company this time.
Tell me about one person you met.
Stacey: I genuinely met so many wonderful people during my stay; all those at CERV, other volunteers on other projects on the island and so many local people including of course all the children in the day care centre and elementary school. Other than being in beautiful surroundings it was defiantly the people that made the whole experience.
One person who I would like to mention is Eden. She helped out with the programme with GVN's partner organisation CERV, helping co-ordinate the volunteers and she also got involved with the building projects which she was passionate about. Her brother-in-law is the Director of CERV who we also met for the first two days of orientation & training, such a great character. It was Eden's house where we spent the first few days in Quezon, a district of Manila and she also travelled with us to the placement where she stayed for a while with one of the families.
On arrival at her house she was very welcoming and she was a great host during our stay. Her daughter Andrea was also there and although a little shy at first warmed to us quite quickly and was very entertaining. It was her birthday whilst we were there so Eden invited her sisters over and we had a birthday dinner - spaghetti & tomato sauce, which oddly appears what the family eat on celebrations. She had such a great sense of humour and had many stories to tell of practical jokes played on family members – I can still hear her laugh now! All in all a lovely person to be around and I really enjoyed getting to know her.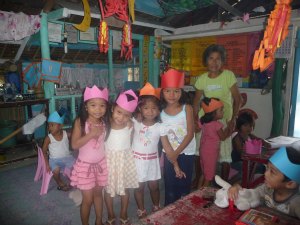 What was the hardest or most challenging part of your experience?
Stacey: I think the most challenging part of my experience was my first morning at day care only as I was so nervous not knowing what to fully expect and didn't know how the children would react to me. However by the end of the first morning I couldn't wait to get back the next day, the children were adorable. It was quite hard at times with the language barrier and although you are taught a few basics words during your training I would recommend learning a few essentials beforehand. Also it is always a bit of a challenge living in a totally different environment to that you are used to. Although it is surprising as it does not take long to adjust and although at first I missed the luxury of a shower, a bucket of cold water does the same job and was most welcomed at the end of a hot day.
What do you the miss the most about the Philippines or your experience?
Stacey: I fell in love with the Philippines; the climate, beautiful beaches and surroundings, the culture and the food but the thing I miss the most is the friendly happy people! Most Filipinos have such a different outlook on life; they are warm & kind with a laid back nature and love for life (and karaoke!), it was refreshing to experience. Living amongst the local people in a small village certainly makes you think about your own way of life, how everyday things are taken for granted and how materialistic many people have become, it is quite sad!
I do also really miss the children I met, I can still picture their smiley faces and hear them all shouting Miss, Miss, Miss trying to all get my attention at once. I miss the enjoyment from working with the children, the feeling of actually doing something worthwhile, it was so rewarding.
What do you the miss the most about the Philippines or your experience?
Stacey: This experience has impacted my future massively, so much so that I have booked another trip away. I have been successful in my application for a years working visa in New Zealand so I am really looking forward to living and working in another country. Prior to entering New Zealand I will be travelling through Malaysia where I am hoping to carry out some more voluntary work. I hope I will have the chance to use the skills I learnt from this experience working with the children, this experience certainly proved to myself that I no longer want to be in the current job role working in an office, I need to be doing something that I feel is truly worthwhile and where I feel I am really making a difference. This experience also helped build my confidence in a number of ways. I have always been of a shy nature however I proved to myself that I can overcome this shyness.