Why did you decide to participate in Central America Explore with Gapforce in Belize?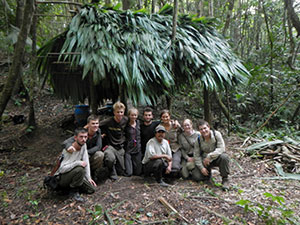 Joanna: Summer was coming around very quickly and having spent most of my gap year working in a restaurant kitchen, I was ready for an adventure. Trekforce ticked all the boxes and living in the jungle for the best part of two months was an opportunity I couldn't miss! I wanted an experience that took me out of my comfort zone – having a fear of creepy crawlies, not being great in the heat and being a novice traveller, this trip certainly did just that!
It was six weeks before the departure date when I emailed Trekforce to find out if there were any spaces available, and before I knew it I was in my hammock in the middle of the Belizean jungle.
What made this experience unique and special?
Joanna: I loved getting back to basics; cooking on fires and sleeping in the wild. I was also in a great group, with a fantastic leader – couldn't have wished for a better bunch of people to spend two months with. Working with the locals on our projects – building a palapa and clearing a boundary line in a jaguar reserve – was a real highlight. I could never have fit in so much and seen such incredible things if I'd have planned it myself that's for sure!
How has this experience impacted your future?
Joanna: Getting on the plane to come home was very hard - university didn't quite seem so exciting after the eight weeks I'd just had. I've fought the urge to pack my rucksack and book another flight, and I should be in Leeds by Saturday...
I feel much more confident about being away from home now and will be booking my next trip as soon as the bank balance looks slightly healthier! The trip also taught me to take each day it comes and be more relaxed about making plans.
You also become very resourceful and learn to have more of open mind about things when you're living in the wild with minimal supplies in you're rucksack!
What was the highlight of your experience?
Joanna: The two days we spent in pairs with just our machetes and belt kits. There isn't a better feeling than lying back on a bed you've made, under the shelter you built, waiting for your noodles to cook on the fire, in the middle of the jungle, whilst a tropical storm passes over. Will and I had a visit from a coral snake in the afternoon on day 1, which we then lost under my bed – despite the known danger and a sleepless night, experiences like that don't happen every day!
Caye Caulker has to have a mention too. Three days of relaxing in the sun, snorkeling and chilling out was the best way to end the trip!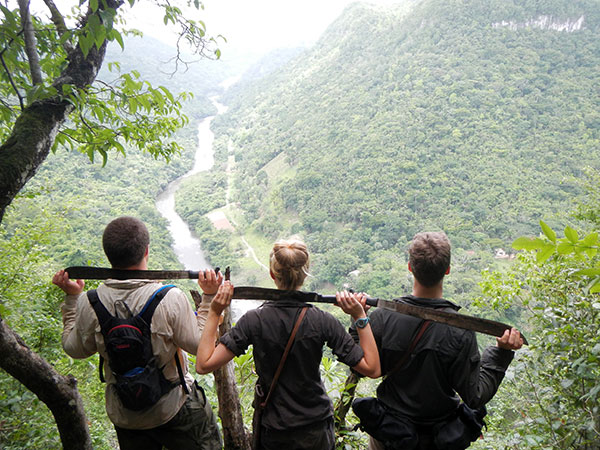 What is one piece of advice you would offer someone considering going on this program to Belize?
Joanna: Go for it! But do it because you want to do it. The jungle throws everything and anything at you. Whether it be getting smellier than you thought humanly possible, or bumping in a big poisonous snake, eating spam or jumping into a beautiful hidden waterfall, you've got relish every experience!