Highlights: It was an amazing and action packed three months and there were many highlights of the trip. I personally loved swimming with the pink river dolphins - one of the most endangered species in the world – and white water rafting was also great fun. The highlight of my experience was seeing so many deprived children who have nothing, smiling and happy due to something as simple as a trip to the pool or playing games. It makes you realize how lucky we are in the UK and how much we take for granted.
Ecuador Language Phase: The trip began with a three week language phase which took place in Quito, Ecuador. We undertook 4 hours of Spanish lessons a day – a 2 hour one-to-one session and a 2 hour group lesson. When we were not learning Spanish, we got to know each other through trips and activities in the afternoons. Activities included a trip to the equator, laser tag, salsa lessons and a treasure hunt around Quito. Each weekend we travelled out of Quito to see the rest of Ecuador including a weekend at the Cloud Forest and a fantastic weekend at the beach in Mompiche.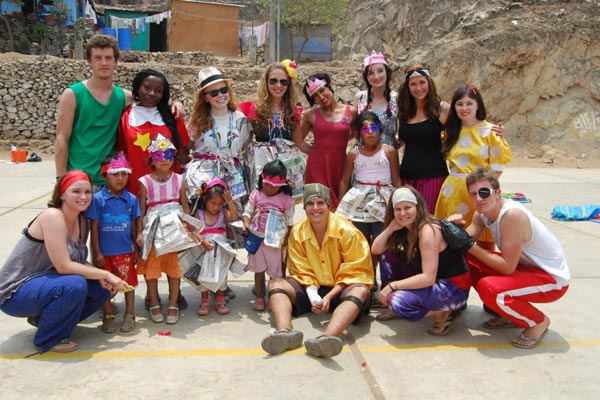 Peru Volunteering Phase: The second phase was the project phase, a month of hardcore volunteering. We organized and ran games and holiday activities for the deprived children of Villa Maria, a large slum on the outskirts of Lima, Peru. The aim of the project is to help prevent these deprived children becoming involved in drugs and gangs by keeping them off the streets during their summer holidays. We visited two communities a day, playing games and activities ranging from football and volleyball to jenga, coloring and painting. Each afternoon ended with an hour in the local pool being used as human climbing frames by dozens of excited kids. Several evenings a week we would also organize Film nights where we would take a projector to one of the local communities and play a film for the children – Despicable Me seemed to be everyone's favorite film. Every Saturday we organized a feria (fair), which involved dressing up in costumes and running a range of games where children could win sweets as prizes, and on Sundays we performed group dances at the Sunday show. During our last week we swapped toys and costumes for safety gear and power tools constructing a new classroom at the Quest school.
Expedition Phase: The trip ended with the awesome expedition phase. We travelled through Peru, Chile and Bolivia and finally back to Peru stopping along the way at some of South America's most breathtaking landscapes, including the Bolivian Salt Flats, the pampas, the Atacama Desert, and the Ballestas Islands. In six weeks we undertook 3 treks lasting 3 to 4 days each. One trek involved descending into Colca Canyon – the deepest canyon in the world – and our final trek was the Inca Trail. Along with trekking, we went sandboarding, white water rafting, kayaking, ice climbing, horse-riding, cycling, and swimming with pink river dolphins.