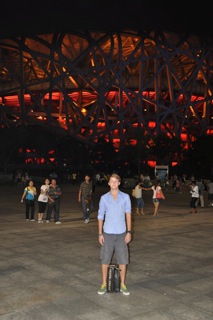 Highlights: One of the biggest highlights of living in Beijing was the contrast between the beginning and the end of my trip. My first day in Beijing, I'd just had a semester of Mandarin at university, but speaking with my host family was near impossible. I understood very little, and could say even less. I was completely confused and realized for the first time how little Mandarin I really knew. However learning went so very quickly. The highlight came one of the last nights in Beijing, when I went out to dinner with a few of my friends and my host family. And I was sitting there translating the conversation between my friends and my host family. It really showed me how much I'd learnt, and how much progress I'd made. This not only gave me a sense of accomplishment, but also a drive to go back and study abroad in China again.
Morning:A typical morning in Beijing started with waking up, having a home-cooked Chinese breakfast with my Chinese home stay family, and then I'd be off to class. my commute was perhaps the most interesting part of my morning, as it entailed bobbing and weaving through Beijing traffic on an electric scooter. Stepping outside the apartment building, I was immediately assaulted by the honking of horns and screeching of tires that makes up Beijing traffic. However these sounds soon faded as I entered the university district and drove around the lush-green campus. The rest of my mornings were typically spent in class, and if I did not have class, it was spent finding a good place for dumplings.
Afternoon: Most afternoons were spent having lunch in a small dumpling place right on campus. This hidden gem did not look like much from the outside, but the food was well worth it. Going to all these local places for lunch taught me a very valuable lesson about Beijing. Usually, the dingier the restaurant, the better the food.
It was cheap, fresh, and delicious. After lunch I spent my time either walking around Beijing, or in the student area. It was great to meet new people and get their perspective on living in China. There were students from all over the world there, and many experiences China completely differently.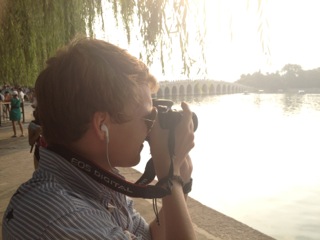 Evening: Almost without exception, every evening started with dinner at my home stay family. This was always traditional Chinese food. It was really great for me to practice my Chinese and it gave me a completely unique perspective on the Chinese culture. My host family and I discussed not only Chinese food, but also customs. After dinner, most often I went with friends to a pub in the student district. This was great to just relax and have fun, but at the same time we could practice ordering food and drinks from the waiters. It was here that we learned about the Chinese custom of giving a cheers. When clinking glasses, it is polite to clink with the brim of your cup or bottle, below that of the other person. This is a sign of respect. Most foreigners do not know about this custom, but when you clink glasses with the locals, it becomes a race to the bottom, as both try to show respect. Chinese people really enjoy it when this happens, as it shows that foreigners are mindful of their culture.