Highlights: From visiting the European Parliament in Belgium to experiencing the Christmas season in Utrecht, it's hard to pin down the best moments. I was one of only two Americans in our program for students from around the world. Living, traveling, and working with this small group was a unique experience. When we weren't having morning lectures at Hogeschool University, our class assignments sent us to other Dutch cities, such as the Hague. (To see the the trial at the International Criminal Tribunal for the former Yugoslavia). This hands-on experience from the school was incredible! Holland is a such diverse country with a huge international student population, so this total immersion in Europe was an amazing experience.
Morning: Cycling thirty minutes to school every morning with my Spanish roommate was one of my best memories of living in Utrecht. The cobblestone streets were packed with swarms of us commuting to school everyday. (You can easily buy a used bicycle here and sell it back at the end of the semester.) Once at school, we'd all gather at Stef's, the school's popular cafe hangout. The café-culture is big in Holland, and between classes it's common to socialize over a coffee or pint.
Afternoon: The Dutch like to describe life in Holland as "gezellig", which roughly translates into "cozy and comfortable." That laid-back and friendly vibe is something I'll always remember. Sitting in cafes on canals to study became our relaxing ritual during the week. We'd gather in town to study and read, and then head over to Kanaalstraat for evening potlucks, a neighborhood that housed many foreign students. Utrecht is one of Holland's major cities, but since it's not a major tourist stop, you get a calmer pace of life, but still a lot of student activity thanks to its many universities.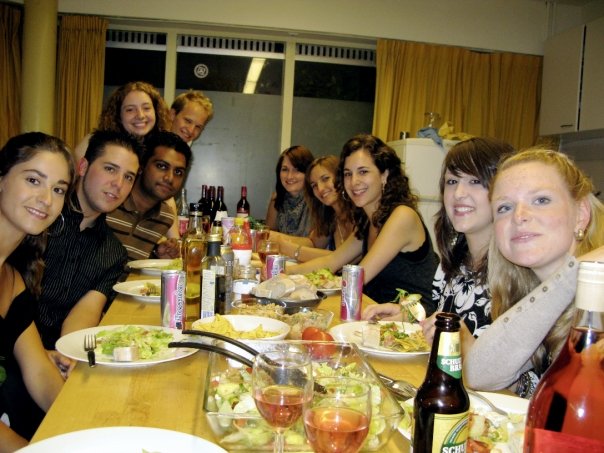 Evening: In the Netherlands, every town is within a few hours by train- so weekend outings were easy. (From Utrecht, the 40-minute train to Amsterdam ran all night, so spontaneous trips over there was common!) Utrecht also has a very active student network, so there was always a big event or gathering every weekend right in the city. Some nights we'd just relax in a coffeeshops on a boat in the canal, and other times we'd head to Tivoli, Utrecht's main music venue hosting DJs and live music.