What was your Austria program like socially and academically?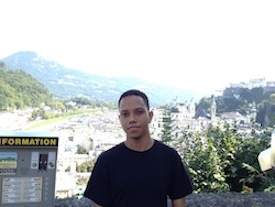 Richard: AIFS offered a great variety of courses for me to choose from. I was able to take five courses that fit my curriculum back home to meet the core, minor, and major courses while abroad. I took classes, such as, intro to socialism in Europe, Art History, two into German courses, intro to philosophy, and an international business course. When I arrived to Salzburg, I decided to live with a family along with other two AIFS students. I was also required to take an intro to German due to the fact that I didn't know any German or whatsoever.
My roommates and I had a great relationship with our guest mother and the rest of the family. We all treated each other like a part of our own close family where we used to cook delicious meals and shared with each other and so forth. Besides my home relationships, I also had a great connection with the rest of the students in the program, as well as other Salzburgers. We all took many classes with each other, traveled together throughout Europe, and even collaborated with each other to study for classes and all that good stuff.
What is one piece of advice you'd give future AIFS Study Abroad students?
Richard: I believe that students should be very open-minded while studying abroad. I tell myself that while Austrians may not meet the American mold, similarly, I do not meet theirs and they may become frustrated of my actions and activities. Austrians are very centered in their family values and sharing with their neighbors and having a good time with their friends. Please keep in mind that Austrians don't usually bring friends over and so they don't expect you to bring your friends either. It doesn't not mean you cannot bring your friends, just ask your guest mother if its ok to bring someone over. I also advise you to try everything and don't be afraid of asking questions.
My guest mother didn't know much English. However, I was able to communicate with her through body language, translations with the help of my roommates, and with the new vocabulary he learnt in class. Do not cluster yourself in your room after class or on the weekends. There's so much to do every day, especially on the weekends when everybody get some rest and enjoy the weekend with family and friends. Go out, dance, try new food, practice your language skills with natives, learn the dialect, the accent, learn the songs…these would help you to get involved in the community and feel the sense of belonging.
Describe your favorite must-have food that you tried abroad.
Richard: Austrians are amazing cooks and they offer a great variety of food. Across from the University, there is a small kebab stand that sales delicious kebab, pizzas, subs, drinks, and everything you need. A block away from the university there is a café, Café Justizia, which has the best goulash soup in town. Students are able to find very good traditional for for a discounted price at the University Cafeteria. Even though Austrians love meat, they also have a vast variety of vegetarian food throughout town. However, I am a meat lover so I didn't have a problem nor searched for healthy food. Do not forget to try the gelatos in Europe, especially in Italy. The dietary food in Europe has a better quality that in the US. Milks, eggs, cheese, and so forth have a better taste and freshness that would blow your mind.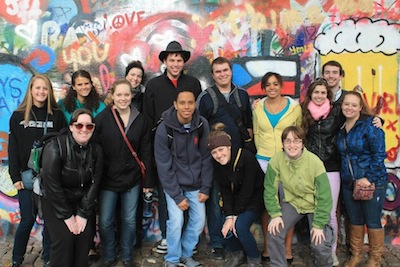 Tell us about any interesting cultural tidbits you noticed about your country.
Richard: Austrians love to drink at any occasions, especially if they are celebrating with friends. By the cathedral, there was always something going on where, students, old, Young, every body goes to celebrate and wear their lederhosen (men) or their dirndls (ladies). It's a lot of fun to be there and eat that delicious rotisserie chicken, pretzel, bread, and the Stiegel beer. They love to drink, eat, sing, and dance. It's a lot of fun once you know the songs and dance with the natives. Strangers would welcome you into their table and share their experiences with you as well as give you tips of how to visit places tourists don't know about, drinks, and food they would embrace your love for Austria and so forth.
Did you run into a language barrier during your stay in Austria?
Richard: Before I visited Austria, I spoke Spanish, English, and Italian, but now, I also speak German. When I went to Austria, I didn't speak any German, but I put my mind to it and took the required course, and decided to continue with 102 to be able to speak with other Austrians and make new friends.