Why did you decide to volunteer abroad with ELI Abroad in Nepal?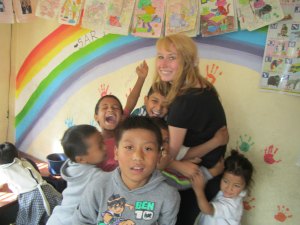 Veronique: I studied International Development at university and as part of the course, we needed some practical community development experience. I'd dealt with many agencies offering experiences overseas – so, so many were overpriced, over-hyped, and business focused. ELI wasn't.
I had a friend recommend them to me after her experience in South America, and as soon as I made contact with ELI I was nothing but satisfied with the way they communicated, the costs involved, the information and support I received. They were flexible, open, honest, and the price was right – unlike programs that tried to charge me (literally) thousands of dollars to volunteer.
My contact with ELI began and continued so smoothly – they were organized and seemed to legitimately care about who you were, the kind of experience you were looking for, and, most importantly, the aid programs they supported.
Describe your day to day activities as a volunteer.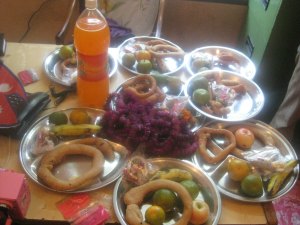 Veronique: I lived in a volunteer share house in Kathmandu, where I was provided with a simple but yummy breakfast and dinner each day. I went to the orphanage Monday-Friday. I'd walk there in the morning, and spend the day – times were flexible – with the children.
I'd teach, play games, and have endless cups of tea provided for me! The children and owners of the orphanage were so welcoming, friendly, appreciative... they had so little but were gave so much, without any hesitation or second thought. What amazing lessons I learnt from their endless curiosity, generosity, and happiness! I'd return back to the volunteer house in the afternoon, and perhaps go up to the shops in Thamel (10 mins walk), or plan my lessons for the next day, hang out with the other volunteers, or talk to family back home.
Weekends were free for any kind of travel – we did lots! We took the bus to other cities, and further afield – 8 hour rocky-mountain-side-wobbly-scary-motion-sickness-hours-delayed-beautifully-scenic-completely-fun bus journeys to the mountains (Anapurna, Everest!), towards the border of india (the birthplace of Buddha!), to beautiful villages far and wide (mountain-peaked sunrises, thousand-step walks, cheap cocktails and momo dinners).
Mountain walks, religious sanctuaries, dinners out, village homestays, national parks, yoga camps, bungee jumping, spiritual havens... our weekends always brought us the unexpected!
What was the best moment of the entire trip?
Veronique: That is such a difficult question to answer!
I remember walking home for dinner one afternoon and we came across a massive festival in Durbar Square – colours, lights, decorations, dancing... it was huge! There were people everywhere and we just walked straight into a minefield of noise and crowds. And this was Kathmandu, all the time! You'd be wandering along and suddenly you'd come across an area filled with flowers and flags and people.
I think there's a saying about there being more festivals in Nepal than there are days of the year... there's always something else to celebrate! It makes for such fun – learning about the cultural significance of each festival, taking part in the celebrations at the orphanage, trying the delicacies and dancing to the music.
That being said... between excursions to the zoo with the orphanage, trekking through the mountains, festival dancing and dinners with the orphanage, shopping in the markets, bus rides to the mountains, cocktails by the lake, herds of goats, baby elephants, soaking in natural hot springs in the mountains... how can I choose just one moment!
Was it difficult to navigate around language barriers?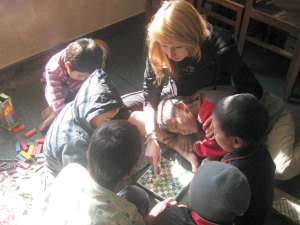 Veronique: Yes! Sometimes it really was!
This didn't hit me quite as much while I was living at the volunteer house – we always had people around to help us with directions, and where to buy certain things, and how to communicate. However, for two weeks we went trekking and stayed in a town called Pokhara (a beautiful lakeside town with views of the mountains) and we realised how hard it could be when we didn't have our wonderful volunteer-house support crew!
I'd recommend learning about the language and the culture before going to Nepal – not only is it useful, the people appreciate you knowing a few words and taking the effort to have some knowledge. It's polite, but also interesting and fun!
How has this experience impacted your future?
Veronique: It's hard to describe how many ways this experience has impacted my future.
I guess most significantly, my time in Nepal helped me work out my own approach to aid and development. There are so many ways we can help out disadvantaged communities in developing countries – but we can't expect to be able to interact with everybody, all the time, and assist in every aspect of life.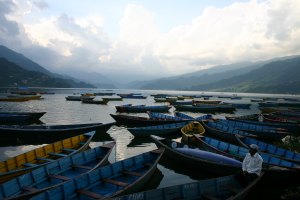 As someone who wants to work in aid and development, I needed to work out how I could participate to the best of my ability. I've decided to study nursing and midwifery – as, I saw so many health issues getting in the way of people leading full lives in Nepal. The rate of morbidity and mortality from preventable disease, unhygienic practice, contaminated water and food sources... it's simply astronomical in much of the world.
Others may see potential in teaching, or policy development, human rights advocacy, economic development... no field is better than any other! You just need to find where you fit, what you feel passionate about, what you'd love to learn about, and go for it! Once you've got skills – any skills at all – you can use them in a positive way.