What made this study abroad experience unique and special?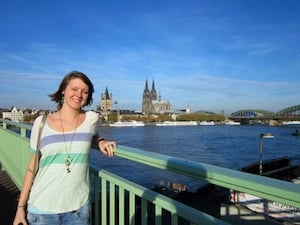 Hillary: During my time in Freiburg, I've been able to meet and get to know some of the most amazing people. I have made friendships that I foresee lasting a lifetime. Part of the nature of studying abroad, is getting close with the people who are experiencing the same amazing things/emotional roller coaster as you, so I suppose that isn't what made my experience unique, but it has definitely made it special. I have also been lucky enough to volunteer in a pottery studio, helping with children's classes.
Pottery and teaching are two of my biggest passions and it has been so fun to incorporate them into my study abroad adventure. It definitely stretched my comfort zone, but has been an amazing learning experience. For anyone studying abroad, I highly recommend getting involved in something you love wherever you are. It's an easy way to meet people interested in similar things, connect to the city/country, push your comfort zone (if you're like me) and maybe even learn a thing or two.
How has this experience impacted your future?
Hillary: Studying abroad has opened up the potential paths of my future significantly. My plan was always to move away for a year between my bachelors and masters program, but end up working and living near Seattle, where I have lived almost my whole life. After coming to Germany I've learned that not only CAN I navigate a new city, even one where the language is not my mother tongue, but I WANT to more and more. Suddenly, the idea of seeing just one city for the rest of my life just isn't cutting it. I want to experience new cultures, meet new people, and push myself past my comfort zone. I'm not sure exactly what that will look like, but I've fallen in love with Freiburg and traveling in a way I just don't think I'll ever shake.
What did IES Germany do for you and what did you need to do on your own?
Hillary: Everyone on the staff at IES Abroad is absolutely amazing. After the stress of flying to Europe, taking trains, and getting lost several times before finally finding the IES building, I just remember the instant comfort and relief the staff instilled in me. They had everything laid out for us, making adjusting to a new country as easy as it could be. Even after being here for two months, they provide just the right amount of support and flexible freedom. I often go into the office to chat with the employees and they are always there to help us when we are freaking out/homesick, laugh with us, and rejoice in our victories like getting a job, finding a place to practice my pottery, or even just talking to a German on the phone (not an easy task….). They are also there to push us to do better, remind us to speak German together instead of English, and to be "immer pünktlich!" (always punctual-very important in Germany).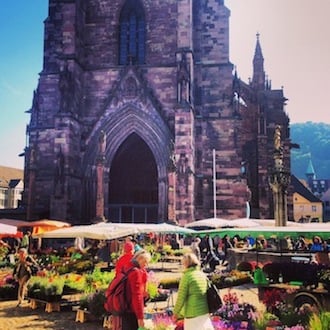 Tell us about any interesting cultural tidbits you noticed about your country.
Hillary: The culture in Freiburg, Germany is very similar to that of Seattle, Washington, where I come from, so nothing has been overwhelmingly shocking. One thing I love about Germany is that every city, even the small ones, have a Münster (church) in the middle of town. No matter where I've gone, we have always been able to visit the Münster. Some, like the Dom in Cologne, are bigger (GIANT), while others, like the one in Bonn are smaller. They are all unique and beautiful and it kind of ties the cities together. The Freiburger Münster is my favorite, because it feels like home, but when I visit other cities I can also go to their Münster and feel connected to Freiburg.
The other great thing about the Münster in every city is that it's surrounded by a Münsterplatz, which typically has interesting shops and things to see, as well as the occasional Münstermarkt. The Freiburg Münstermarkt happens every day and is a huge farmers market of food, wine, gifts, and other goods. It's a great place to see the local produce and products of that region.
Describe your most meaningful souvenir and why you love it?
Hillary: As I was traveling around to different places and trying different restaurants in and around Freiburg, I started collecting the paper coasters we used. Sometimes I had the people I was with for that meal/drink sign the coasters, or I would just write the date and place it was from. I now have a pretty good sized collection of them from Jungholz, Austria, Munich, Germany, Colmar, France and Engelberg, Switzerland, not to mention all over Freiburg. When I get back to the US, I want to compile them all together and cut out the silhouette of Germany. Then I want to mount it on an old table and out a piece of glass overtop to have it as a living room table where I can see it and remember my time in Europe.