Why did you decide to study abroad with IES Abroad?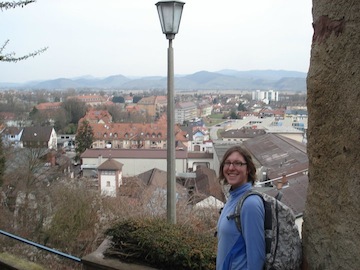 I decided to study abroad with IES because I knew of their great reputation as organized, knowledgeable and respectful of other countries' customs. Importantly, I also knew from their website that they were willing to assist students in becoming engaged in the community in whatever area of interest they had.
For example, I wanted to go speak to adolescents in rural Germany and was able to be connected with a "Rent An American" program through the IES staff so that I could hop on a train a fulfill my dream of being a cultural ambassador to other students in Germany.
From the start, IES was an accountable, student-centered organization.
Tell us about an experience you had that you could not have had at home.
There were many areas of exploration in my time with IES in which I grew tremendously, gaining skills and insight I would be able to apply at home as well. I was able to learn extensive German language skills by going to a local amateur radio club, where I was taken in by several families and was able to observe technical, formal, informal, familial and organizational language skills simply by being an ambassador to the German radio club. This required ability to identify areas in which I had interest (like radio) and a real passion to go outside my comfort zone and experience true immersion – something I definitely could not get at home.
What did IES Abroad do for you and what did you need to do on your own?
One of the things IES did for me was assign me housing in a residential apartment with university students from Germany and other countries that didn't include the US. This was one of the best opportunities that could be given to me. However, if I really wanted to engage with these wonderful friends and resources, I had to do more than what was given to me by IES. Namely, I had to make sure I invested time and friendships into parts of my life other than the program and its American participants. Sometimes this was a bit of a challenge, because there were always activities and options to choose from!
What was the best place you visited outside of Freiburg?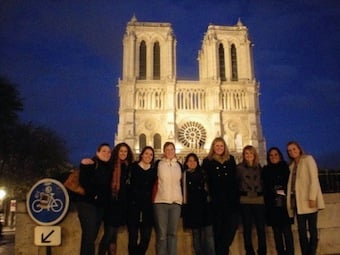 The most historically-entrancing and grandiose places I visited outside of Freiburg were Riga, Latvia or Budapest, Hungary. Because this particular IES program focused on studying the European Union: Culture and Politics, we traveled quite frequently to other countries. We explored France, Belgium, the Czech Republic, Poland and other countries as well, visiting Parliaments, nonprofits, councils, international governing bodies of all kinds, and – of course – great cafés and restaurants. What a way to learn the true meaning not only of hands-on learning but also of packing light!
What is one piece of advice you'd give future IES - Freiburg students?
Be confident! You don't have to (in fact you won't be able to) know all the secrets of navigating a completely new place. That is why going overseas is such a great opportunity for fun, discovery, self-growth and finding out about yourself. Trust and be patient with your own judgment by sticking to your values and letting yourself wonder and wander rather than panicking. This is a journey both within yourself and it's a journey surrounded by people who care about you.