Why did you decide to study abroad with Center for Italian Studies?
I decided to study abroad with Babilonia because I had heard from a family member who had a positive experience with the program. I did not know any Italian when I entered the program, and this was a great way to be able learn the language and have the needed support to do well in the country.
What made this study abroad experience unique and special?
This study abroad experience was a unique experience unparalleled to any other experience I have ever had, both in and out of the classroom. The teachers are very focused on helping the students move forward with their language skills and are willing to put in extra time to help students out.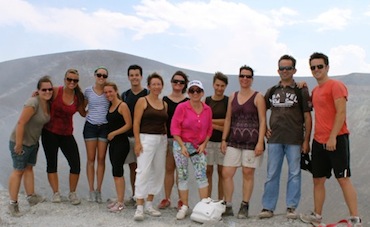 They also provide seminars on Italian culture and film, so that you gain a well-rounded vision of Italy, instead of just the language. The location of the school itself is absolutely ideal, with the bright blue waters of the Mediterranean on one side and Mount Etna on the other.
How has this experience impacted your future?
The experience with Babilonia was the start of my studies with Italian. I have continued my study of the language in college, and hope to minor in it.
What was the best place you visited outside of your study abroad city?
The best place I visited outside of Taormina was Scala dei Turchi, which is located in Agrigento on the west coast of Sicily. It is definitely worth the drive, and the views are stunning.
If you could do-over one thing, what would it be?
If I could do-over one thing, it would be traveling through more of Sicily instead of leaving the country to travel. It is a great island and definitely worth exploring.