Why did you decide to volunteer with La Senda Verde?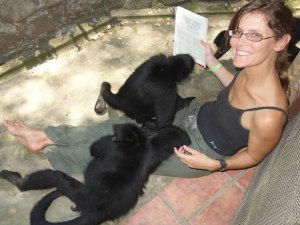 Sarah: I read in a cafe 'tips from tourists' book about this animal refuge as a possible place to stay at the end of the Death Road bike trip from La Paz. When I looked up La Senda Verde's web site I was excited to see that it was also possible to volunteer there. After reading feedback on another travel web site I decided it was definitely something I wanted to do, and a place I wanted to do it.
Describe your day to day activities as a volunteer.
Sarah: Each day volunteers are assigned to a particular area and have specified tasks for the day, mostly feeding the animals 2 or 3 times and cleaning their areas twice a day. This often meant a pretty tight schedule of feeding and cleaning from 8am to 9:30am, maybe a lunch or afternoon feed, and then again feeding and cleaning from about 4 to 5pm.
Outside of these schedules you have a lot of free time to relax or enjoy the animals (for me the spider and capuchin monkeys), or you may participate in special construction or improvement projects.
Volunteers rotate through different areas, generally doing a few days on each task with the chance to do most of the different areas. However, women don't work with the capuchin monkeys as many of them are sexist and might attack women (but you can visit them and stay away from the mean ones).
You can get pretty dirty and wet and tired doing your tasks but it's very rewarding to get up so close and personal with the animals, and know that you are helping to care for the lucky ones who got rescued.
What made this volunteer abroad experience unique and special?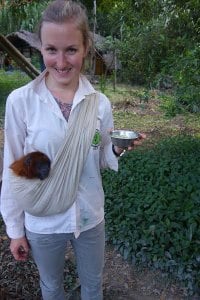 Sarah: It's just amazing to be able to interact with animals that you would otherwise only see in a zoo. They have distinct personalities (even the tortoises) and it's fun to get to know them.
But this place is also amazing because of the great people who run it. They are so welcoming and treat you like part of the family - even though they must have seen hundreds of volunteers come through.
If you could go back and do something different, what would it be?
Sarah: I think I would have brushed up on my Spanish more before I went as some of the paid staff don't speak any English. You can get by with hand gestures, but it's definitely a barrier and you don't get to know them.
I'd also get a local sim card with internet data - there are a couple of places you can get a signal on the property and that's much easier than having to get into the local town. Plus I'd bring wellington boots for those rainy days when even the best hiking boots get soggy.
Ten years from now, what's the one thing you think you'll remember from the trip?
Sarah: I'll always remember hanging out with the monkeys and having a pile of spider monkeys sleeping on or around me while I was babysitting a small howler monkey. Plus the cheeky capuchins who talk with their eyebrows and steal anything you forgot was in your pocket.