What inspired you to volunteer abroad with La Esperanza Granada in Nicaragua?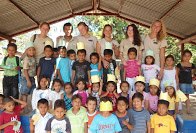 Peter: I had retired some years before and wanted to continue my practice of going abroad to do some voluntary work each year.
I can speak some Spanish and have always had an interest in South and Central America. Previously I had volunteered in Peru and Bolivia but felt that I would like to work in one of the Central American countries.
As has been my practice I searched the internet for places which interested me and came up with Granada, Nicaragua. I then searched volunteer websites and came up with La Esperanza Granada.
What was the best moment of the trip?
Peter: I have now volunteered 4 times with La Esperanza and cannot think in terms of 'best times'.
It's a beautiful city in a beautiful country of vibrant, friendly people. The gratefulness of many of the people whose children attend the schools in which La Esperanza volunteers work is heart warming as is the pleasure the children show on a daily basis.
Throughout there is a feeling of doing something worthwhile.
If you change one thing about your experience, what would it be?
Peter: I can't really pinpoint anything I'd want to change. I've had the opportunity to work in different roles in the organisation – administrative, volunteer support, maintenance and constuction projects – and have enjoyed them all.
Tell us about one person you met.
Peter: The Director of La Esperanza Granada, Pauline Jackson, is a truly inspirational figure.
Over the past 8 or 9 years, under her care, the charity has grown both in terms of volunteer numbers and the types of work it does.
Pauline has worked and still works voluntarily in what is more than a full time job.Her desire to help the needy in terms of educational opportunity is evident in everything she does.
Through her efforts, primary and secondary schools have been built in an area where previously many of the local children did not go to school at all.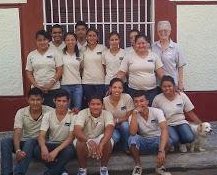 Many such children have been supported through school and even university. My only fear about La Esperanza is what will happen when she finally has to retire.
How has this experience impacted your future?
Peter: As I'm retired I don't worry about my CV and the like. I just want to continue volunteering as long as possible. Retirees at home don't know what they're missing!