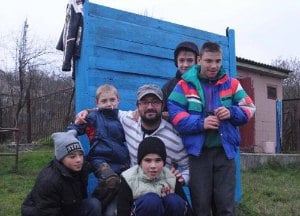 What led you to volunteer abroad with Love Volunteers in Ukraine?
Jerome: I had a quite big pack of vacation days to take, and no real idea of where I could go or what I could do.
In any case, I did not want to go anywhere abroad to find myself passing days surrounded by other tourists. And let's say that all-inclusive club-hotels are absolutely not my way of seeing nice holidays.
So I just came to the idea that, since I was looking for something light-years from my daily life, that would be better to make it useful in some way. I looked on the internet, came across Love Volunteer website, and picked Ukraine, I must say, quite randomly.
What made this volunteer abroad experience unique and special?
Jerome: Not seeing any other foreigners during 3 weeks. In my field of work (I'm French, living in Germany and working in aircraft industry), seeing people coming from only one country is seldom and I must say quite relaxing, even if it was sometimes quite hard.
I mean, for some of the Ukrainians I met, I was the first foreigner they saw, and they were happy to share their culture, or simply to communicate without any other aim than communicating. And this, without the big messy multi-cultural melting pot my daily life is.
What was the most interesting cultural difference you encountered?
Jerome: Hard to tell. Ukraine is European in the end. So many things are the same, and at the same time, everything is different.
It seemed to me that for many aspects, Cherkasy reminded me of France in the 80's. The atmosphere in the classrooms was very much like the one it used to be when I was a pupil myself, and that somehow it felt very comfy.
On the other hand, they are nonetheless from an East European Christian Orthodox culture, and I happened to assist to a church service during my time there. As someone raised in Catholic culture (but non-practicing), that was extremely interesting, and very nice to see.
I need to say also that Ukraine (outside of Kiev of course) is quite traditionalist and conservative in many social aspects, which can lead to some naive, well-meant but nonetheless totally weird questions or remarks.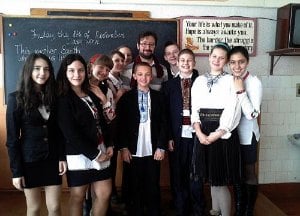 Tell me about one person you met.
Jerome: One of the orphanages was quite far from Cherkasy and required about 1.5 hours of bus travel. On one of my trips back from there, I noticed that the young lady behind me passed most of her time peeking above my shoulder to the English book I was reading.
When I appeared kind of lost at the moment to get off the bus (yes, Ukrainian busses stop are not always the same and not well indicated at all), she came to me and helped me find my way.
Nadia, that's the name paired with the nice pair of blue eyes peeking over my shoulder, was the typical kind of Ukrainian person I enjoyed meeting there - curious about everything, asking naively some questions totally out of the blue, definitely nice and doing her best to communicate in some language I could understand.
Actually, thanks to online games, she was quite good in English and German. So we could communicate without big problems. She could also show me some other places in Cherkasy my local focal point did not show me (bars, parks...).
Since then, she moved in Kiev to look for a better job.We still have some contact through the internet, but due to the recent events in Ukraine, unfortunately not much.
What advice would you share with someone considering this program?
Jerome: Get to learn some Ukrainian or Russian before your trip! There is no time or place to really learn anything, especially since people fluent in English are scarce and inclined towards very personal translation of what you just said.
Learning to read a Cyrillic alphabet is a must in any case, but can be done within two days. A lot of words are transcriptions of English words using the Cyrillic alphabet, so just reading aloud can already help you to get directions for example.
Get yourself a good fat book for the bus travels and be prepared for a different way of life, less eating and no real hot showers.