Why did you decide to volunteer in Borneo with The Leap?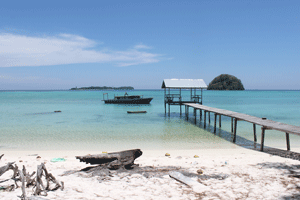 Claudia: Borneo, the third biggest Island in the world, is a tropical paradise, a diverse mix of equatorial primary rainforest with amazing wildlife and flora and fauna. It has palm-fringed desert island beaches, the bluest South China Sea and very cosmopolitan cities.
Volunteers have the chance to experience living in a community of traditionally tribal people in rural villages helping to sustain the village with eco-tourism and conservation projects.
They'll trek in the jungle; explore the most beautiful rainforest, swim under waterfalls, sample fantastic cuisine and experience some of the best scuba diving in the world.
You can island hop and dance the night away and spend time with some of the friendliest and kindest people I've ever met.
What were you most looking forward to before the trip?
Claudia: Two weeks out of the office. No - really, definitely the orangutans and sun bears that I'd heard so much about from our previous Borneo project and they didn't disappoint. We visited Sepilok Orangutan Rehabilitation Centre which is included in the Leap volunteering program.
But we also visited Semenggoh Nature Reserve, near Kuching, which was even more close up and personal, and turning round on the path to see two orangutans walking along right in front of me was amazing.
Having seen lots of pictures, Mantanani Island was top of my list of places to visit and it was stunningly beautiful.
Although a little apprehensive of creepy crawlies I was looking forward to seeing the rainforest and the nighttime noises of the jungle are never to be forgotten.
If you could go back and do something differently, what would it be?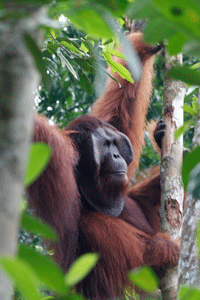 Claudia: I would have spent at least twice as long there as there is so much to Borneo that we didn't see.
I would have done a proper jungle trek. We didn't really get the opportunity to do one and I was avoiding it a bit too, but I regret not going on a proper stomp and putting my walking boots to the test, and wearing those stylish leech socks of course.
I would definitely have spent a lot longer on Mantanani Island – Leapers get 2 weeks there – I'm going to be so jealous sending off the teams.
Was it difficult to navigate around language barriers?
Claudia: Lots of people speak English in Borneo so there wasn't really a language barrier. The people are always smiling and are very calm so it's quite easy to get across what you're trying to say – not daunting at all.
Tell me about one person you met.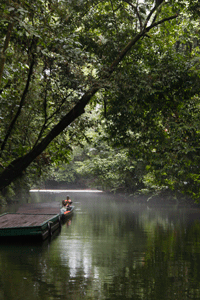 Claudia: Danny Voon (and his wife Pat) who is our man in Sarawak, was the perfect host and made our stay in Sarawak truly memorable.
We planned to visit the village of Mentu in one day so that we could have a bit of R&R time in Kuching before flying home, but from the moment we arrived in Mentu, I realized that wasn't going to happen.
There were great preparations going on for a wedding and we were made to feel so welcome. We were introduced to, it seemed like everybody in the village! I learned the art of drinking rice wine (tuak) and was fed the most delicious food and invited to the wedding.
Danny is very knowledgeable about Sarawak and the jungle and taught us a lot as we were traveling through the state.