Why did you decide to enroll with Rustic Pathways in India?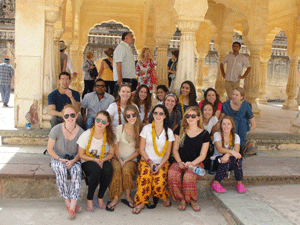 Jinan: About 2 years ago, I told my parents that I wanted to visit India in the future. This thought was considered by my parents, but we eventually stopped talking about it after the summer ended.
I had an amazing experience with Rustic Pathways last year in Thailand -where I did community service and got certified in wilderness first aid- and I had been planning on doing another trip with them as soon as I came back from my trip to Thailand.
So imagine my happiness when I found out that they had programs in India. Not only would I be able to visit India, I would also be able to help out and volunteer abroad.
The program I enrolled in (The Children of India) was a perfect mixture of volunteer work and exploration of the wonderful country that is India.
Describe your day to day activities as a volunteer.
Jinan: Basically, we would reach the children's home early in the morning, and would split in up into a few groups –depending on the activities that we planned out or the amount of children at the home at each period of the day.
In the mornings, we would generally teach the smaller children who still didn't go to school some English and play with them. The girls loved braiding our hair, and the boys loved showing us their impressive dance skills.
During the afternoon, when most of the children were back from school, we would split up into groups, some of us would teach them English and math, while others would help out in the kitchen by making chapatti (traditional Indian bread) or cutting up some fruits and vegetables.
We served dal (lentils), rice, as well as some other types of food to the children at the home. They made us feel special, and that was our way of trying to make them feel special as well.
Do you feel like you made a significant impact on the local community? Why or why not?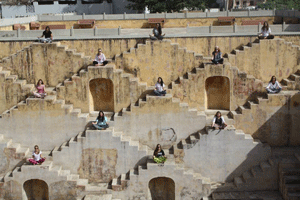 Jinan: Change cannot be brought out overnight, and although I do believe that I made an impact on the local community in India, it was not as big as I had hoped.
This is because I wish that I had stayed longer on the trip with Rustic Pathways. But I honestly think that over time, the impact will become even more significant than it already is.
Rustic Pathways has been working with Surman House (the children's home) for over 3 years, and some people even come back to Jaipur because they feel like the work we did truly helped the community and left a great impact on the children.
Also, because the program I did was only one week long, there were several sessions after mine, so anyone who signed up for them would continue what we had started, and the impact would continue to grow stronger with every session.
I personally think that impact can't be restricted into one specific form, as long as we brought some happiness to the community and brought about a positive effect, I believe that this simple change can be enough to change their future.
Tell me about one person you met.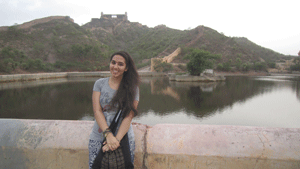 Jinan: One of my inspirations and one of the most fascinating people that I encountered in India was the woman who owns the children's home, Manan Surman. She told us the story of why she started the children's home in the first place.
About 20 years ago, while she was a fashion design student, she was on her way to the university when she looked outside her window and saw a young girl completely naked in the slums looking for something to eat.
Ms. Surman then said to herself, why should I design clothes if people can barely find something to wear? She then took the young girl into her home and cared for her.
She now cares for over 90 orphans coming from different backgrounds. The first time I saw her, I immediately recognized her because of the way the children acted as soon as they knew she was near.
They stood up and kissed her feet (which is a way of showing respect in India). They called her mama, and it was obvious to my fellow volunteers and me that they loved her.
The kids obeyed her orders, but also loved to dance and sing with her. She was both a caring mother and a teacher to them, which I found to be amazing and inspirational.
What was the best moment of the entire trip?
Jinan: Maman Surman, the founder of the children's home, organized a fashion and dance show for our group. We went to have our lunch, and by the time we came back, the children had set up balloons and cleared out the field to hold the fashion show.
This was definitely the highlight of my trip, because all of the kids gained so much confidence each time they walked the runway among the rest of us. The girls would hold hands and strut down the catwalk, and the boys would show off their amazing dance moves at the end of it.
However, they did not fail to involve us, as you would here the children calling out didi (a way of saying older sister in Hindi), and dragging us onto the makeshift catwalk.
I had no idea that such a small act could leave such a great impact; making the children and the rest of us extremely happy and filling us with joy, as well as instilling a sense of confidence in each and every one of us.