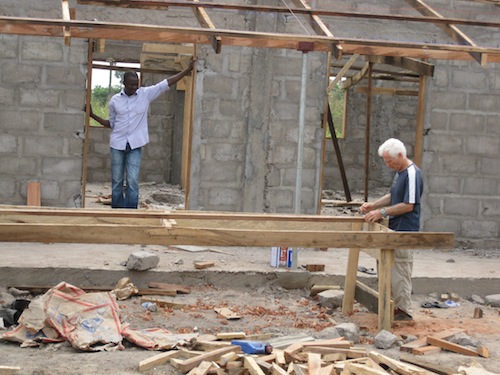 Morning: We volunteered at two cities: Kpandu and Ho. At Kpandu we stayed at the home of Bishop Forson who is a spiritual leader, the School Principle and a farmer. We shared the life of his family.
In Ho, we had the option of staying with one of the community leaders. Most volunteers stay with him. His name is Mr. Prosper. We preferred to stay in a hotel in the center of town, close to the market, internet and bus stop, at $10.00 per night. We would get breakfast on the street or make something simple at the room. At Kpandu we walked to school or took a local transportation and help in the school. At Ho we took a local Van to the school site, about 5km.
Afternoon: In the afternoons we walked to the market for fresh veggies, fruits, eggs, rice, peanut butter etc. We talked to people, sewed, and read a lot.
Evening: I was there with my husband, so we enjoyed an evening stroll, reading, and spending a quiet evening in the room. The young volunteers went out for a drink or just got together. Not much night life or entertainment in Ho...
Highlights: At the end of five month, my husband completed the construction of a school in Airfield Community, about 5 km outside of Ho. It has eight classrooms, a library, and an office. We were able to bring in new principle and change all the staff. The construction was done with the help of the community and brought a lot of pride to the people.