Emily: My cousin had told me that she was doing a teen tour program in Europe and that inspired me to do one too. I was looking at a lot of teen tour programs online and when I found Rustic Pathways, I knew it was the one. It had so many options for countries and types of programs.
There seemed as though there was a program for everyone. I didn't want to travel too far on my first teen tour program, but I wanted to venture out of the United States.
Costa Rica was the perfect place. It was said to be very safe and with a lot of culture to experience. Even though I don't speak Spanish, I thought it would be a great opportunity to expand my languages and experience life in a country I'm not familiar with.
I wasn't very sure what I was interested in doing for my program, I knew I wanted to do community service, but I wasn't sure what type or if I wanted to do something along with service.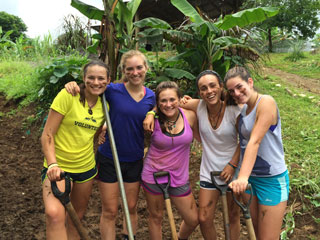 The Intro to Community Service seemed like a perfect mix of everything. There was service, adventure, and free time which sounded great. It also wasn't a home stay which I would have been nervous about doing and staying in a base house allowed me to spend more time with people in my program.
If you could go back and do something differently, what would it be?
Emily: I wouldn't want to do much differently if anything at all. I would probably just pack better. I would bring more towels because by the end of the trip, they smelled horrible.
Also, I would pack some clothes just to wear around the base house instead of just the clothes I packed for service projects and adventure activities. That's honestly all I would do differently because my trip was perfect exactly the way it was!
What was the one moment you'll never forget?
Emily: I have a lot of moments that I will never forget, but one is definitely playing soccer at the base house for the first time. It was after we finished painting signs for the community and a few of us decided to play soccer. It was truly amazing how quickly we all bonded and got close and how comfortable we were around each other.
It started to rain after a while which made it even more fun because the ground got muddy and we just kept slipping in the mud. More people started to join and it was the best time to have fun with people you've only known for such a short time.
Another unforgettable moment was white water rafting. It was super intense and a little scary at first, but once we got the hang of it we had so much fun. Our raft was definitely crazy and we almost fell out a lot of times, but those were the best moments when we weren't very coordinated and we were all just jumbled on the floor of the raft!
We even got to sit on the front of the raft one at a time during rapids and try not to fall off which we failed to do most times. The guides on other rafts tried to pull us out of our raft and splash us with water. All the rafts would try to bump and splash each other which was really fun. It was the funniest and craziest experience and we laughed the whole time which made it even more memorable.
Tell me about one person you met.
Emily: I met many amazing people on this trip, ones I will never forget. There were so many great friends that I made and that I will continue to keep in touch with, but there were also many other people that I will always remember.
One of them was a local named Victor. My community service group met Victor while working on a road. He was one of the many who used this road to get to his farm every day in order to make a living and by helping pave this road, we were helping Victor make a living.
Victor was a very funny and friendly guy who liked to tell us lots of stories, some that didn't make sense at some times, but always made us smile. He told us about his farm and how he had to sell a lot of the animals to make money.
He also took time to take us into the rainforest to show us a fresh water spring and show us the diversity of Costa Rica. We saw a frog, fish, many plants, and a stray dog even followed us. Victor was happy to show us around and loved to talk and laugh with us.
We could tell he was very honored to live in Costa Rica and loved his country and town. Even though Victor didn't have much, he was still able to be just as happy and kind hearted as anyone else. He taught me that you don't need a lot of materialistic things to make you happy.
What tips would you share with someone considering this program?
Emily: For anyone considering this program, I would definitely say to do it! It was honestly the best experience of my life and one that I don't think anyone would regret doing. Some people might be nervous about traveling alone, but don't be!
This was my first time ever traveling by myself. I never went to sleep away camp or anything. Of course I was a little nervous at first, but once I met people at the airport and the first night at the hotel, I immediately knew that I made the right decision by going on this trip.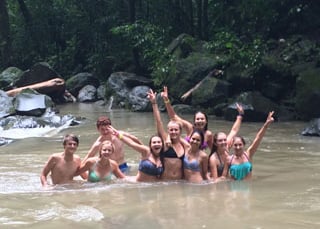 It's okay to travel with a friend, but traveling by myself was great for me and I recommend it to people. To go on this trip, you should try to be social and more outgoing because that's how you make more friends.
Also, you shouldn't be nervous about the safety of Costa Rica because it's a very safe country and I never felt in danger while I was there.
This program is perfect for first time travelers because it's not too far from the U.S and it has a mix of everything to get an idea of what you really like to do. I would definitely recommend this program to anyone who is considering it!