Morning: A typical morning really depended on what day of the week it was. My day usually started about 7am – the sun is long high in the sky and since our house was right by the primary school, we frequently had plenty of children coming by to say, "Good morning, Miss!" So sleeping in generally wasn't possible! Some mornings I had a class to teach.
My primary job with YCI, while in the village, was teaching grade 7 to 9 English B, which is Literature. The focus was on literary terms and recognizing their presence in various poems and stories. It was always a fun challenge to ensure that my lessons covered the necessary topics but in ways that were at least somewhat interesting. I also seized many a moment to teach things about Canadian culture and how it compares to Guyanese culture, to show some photographs of my travels, and even teach some French! On mornings that I didn't have class, I took those times to stay on top of my laundry. Hand washing in a bucket takes a long time!
Afternoon: Afternoons also vary day by day. Sometimes I had a class to teach at the high school. Some afternoon classes, instead of a lesson, we developed workshops for the students. We did almost ten workshops on topics such as dental hygiene, nutrition, and study skills/test taking tips.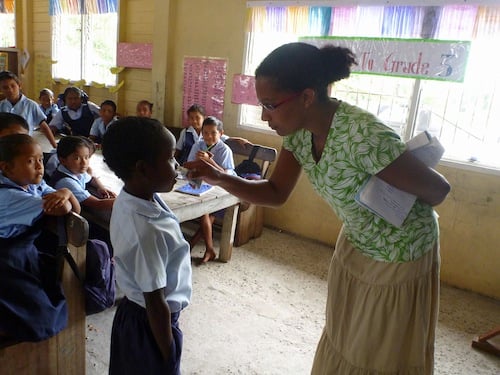 Also, every Monday, I led an English remedial class for the grade 7 and 8s where we focused on grammar and punctuation. Tuesdays we had remedial grade 7 and 8 math class – the focus here was on multiplication, division, and fractions. Wednesday was literacy work for grade 3 students, those of whom were behind in their reading skills. On Thursdays, I helped at the little local library, sorting donated books and helping kids check books out. Saturday afternoons tended to be Bath Time. At the house, we had bucket showers but every Saturday, we'd trundle down to the river for a shampoo and bath. We usually had the area all to ourselves – it was glorious.
Evening: The village generator came on at 6pm every evening (usually) for four hours (Sunday to Thursday) or for 5 hours (Friday and Saturday). This was the only time when we had electricity. Once the generator was on, the local computer lab opened. Usually we were first in line as there were only five laptops for a village of over a thousand people! After I checked various emails or did necessary research for lesson planning, we would have dinner at home or at someone else's home. Other times we would go to a movie night at one of the local shops or just lime and gaff with new friends (lime = hang out; gaff = chat). The village has a couple of bars with pool tables, and there is even a dance 'club'! Of course, the fun times were for AFTER I prepped my lessons for the next day ☺
Highlights: There were many great things about volunteering in Guyana. I think the highlight for me was seeing improvements in my students. Especially in a short term stint (three months is still short!), it is hard to see what impact you may have had with all the effort you put into your volunteer job. However, even with the short time I had, I think my students made some strides. There is nothing quite like seeing the smile of accomplishment on a kid's face over seemingly little things such as recognizing the letter 'M' or realizing that long division really isn't that complicated. It was also great to see my high school students developing their writing skills, some even going beyond what I asked for in homework assignments.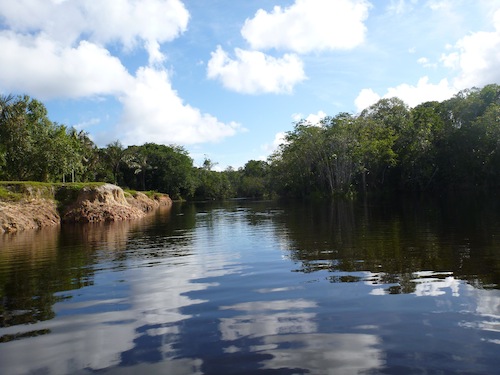 When you're volunteering in a foreign country for three months, it is hard to pick just one highlight. Beyond the actual volunteer work itself, highlights for me would be exploring the natural beauty and culture of the village. The village, though on a sandy savannah, is right by a river and rainforest. We were able to do many hikes, camp, fish, boat trips, swim, picnics, traipse through deep sucking mud, cross narrow bridges (read, log), pick food off trees, see wildlife... It is so cool to stand in a rainforest in the rain! And sleeping in a hammock under open-air shelter during a wind/rain storm is pretty awesome too. There were many cultural happenings the YCI team were able to be a part of as well – Phagwah (by the end of it, you look like a drowned rat from Avatar), Easter preparations (kite making and flying), and Mashramani (carnival).