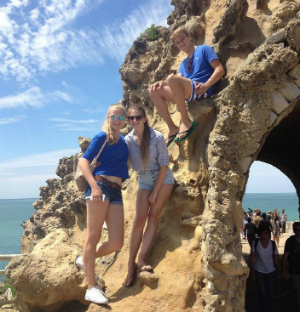 Where was your best photo taken and what was it of?
Paige: A accidental panorama of the San Sebastian harbor, the lighting was perfect and you can see every aspect of my trip; the beach, friends, boats, shopping, and amazing culture. The trip was unexpected and more than I could of ever asked for, kind of like the picture.
Describe your most meaningful souvenir and why you love it?
Paige: I had a hard time trying to pick a single souvenir for this trip but one came to mind in particular, oddly enough it's not what you'd expect - a rock. While on the Biarritz extrusion to Saint-Jean-de-Luz, I met a very friendly artist from Naples, Italy who painted oldschool solely with a pallette knife.
After purchasing several pieces, at an excellent price for how amazing they were, and discussing our study abroad trip, my friends and I continued to other booths till we found the rest of the group. They asked what I had bought. After showing the painting, several of the students went back to this artist's booth to purchase similar paintings.
As we were walking back to the train, we passed our artist friend's both. He smiled and motioned for me to come back, I assumed I had left something at the booth or something of that sort. Instead, he began to thank me for directing the rest of the SPI group to his booth and asked if he would return tomorrow so he could make a custom painting for me free of charge.
Unfortunately, it was a one day excursion, after a minute's thought he got up and ran down to the river bank. He came back about to minutes later and showed me a rock "en forme d'un coeur car tu es gentille". He allowed me to take a video of him custom painting a biarritz sunset with two sailboats and my name blended into the clouds onto the heart shaped-riverrock using a palette knife.
He wrapped the rock carefully and told me to remember to enjoy the sunset of France once I return home. I don't think I've ever been more careful tucking a rock into my suitcase.
What is one piece of advice you'd give future SPI students?
Paige: Go experience the culture, don't be afraid of language barriers and make an effort to introduce yourselves to locals. They are as interested in you as you are with them. I can tell you from experience, this will be the sole occasion you will meet the most exotic, unique, and crazy people ever. I made some of the most interesting and unforgettable friends just hanging around a beach.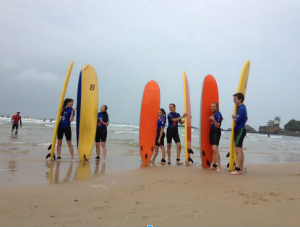 Describe your favorite must-have food that you tried abroad.
Paige: Two things for Biarritz: chicken burgers and pasta boxes. Before you consider this non-abroad, I guarantee you - it was a whole new experience, and actually a local favorite. You will never be able to find a replication of these anywhere but Biarritz.
Nestled between a creperie and brassiere off of the main plaza there is a little food stall with two barstool tables. Best pasta I have ever eaten, you pick your sauce, pasta type, and meat where it is freshly made and served in a takeout container. They instant boil amazing pasta and add the a la carte sauce, I kid you not one hundred times better than anything I have ordered at any restaurant, including Italy.
Part two, chicken burgers with house fries, sooooo delicious. Ask for the burger with house-made balsamic onions, tomatoes, and creme fraiche pesto. This is not your typical beachside burgers, they are beyond amazing. They may or may not have constituted my beach meals every night...