What inspired you to volunteer abroad with Travellers Worldwide in Sri Lanka?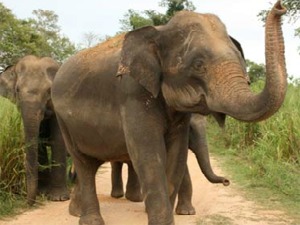 Terry:The Inspiration for the Journey to Sri Lanka and Volunteer placement with Travellers World Wide, was to enjoy an unforgettable experience with my Daughter. She had just completed year 12 exams and was looking to choose a University Course involving Biology or Animal Sciences.
We both share a love of Animals and I thought the Placement would inspire her to further Studies and share some Special Memories with her Old Man.
What was the best moment of the entire trip?
Terry:There were probably two "Best " moments of the entire trip. The first was when my Daughter interacted with the Elephants the first day. She got to help bathe them and hose them down and to hug them is pretty Special. The Second moment was when we got to help look after an Elephant who had been blinded by Poachers.
We got to wash and scrub him down, while hand feeding him Watermelons. It was a moment we shared with a Magnificent Creature who had experienced Man's cruel side, from the Poachers and Man's Compassionate side, from the wonderful workers and Volunteers at the Orphanage.
What was the hardest or most challenging part of your experience?
Terry:The hardest part of the experience was definitely the 3 hours of work in the heat. Mucking out the Elephant's night Sheds was smelly, dirty work but the local workers and Foremen were really friendly and enjoyed an Aussie Singalong.
We were well aware of the work before our program started and it was a great experience for my Daughter, who had never done Manual Labor like this. The three hours of work was well worth the three hours, after work spent at the beautiful river, sharing moments with about 70 Beautiful Elephants.
If you could go back and do something different, what would it be?
Terry: If I had a chance to go back and do something differently I would skip lunch back at our Accomodation so we could spend even longer with the Elephants. I would also take a change of clothes to the river each day ,as we stunk of Urine and Crap and we got a lot of strange looks from other Tourists by the River.
Where would you most like to travel to next?
Terry: The place I would like to travel to next would be South Africa. Travellers have a project there in a Lion Orphanage. I think this would be a pretty special experience too. I've been to other African Countries as a Tourist and loved getting up close to the wonderful, Wild Animals.