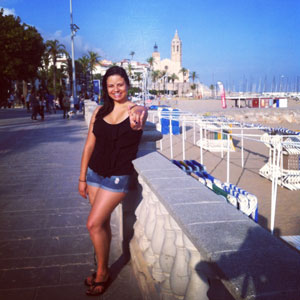 Why did you decide to intern abroad with World Internships?
Marcela: I decided to intern abroad for a couple reasons. First and most importantly, one of the requirements for my degree in International Business is to complete either a semester abroad or an internship abroad.
Due to the fact that I could not leave my job for a whole 4-5 months to do a semester abroad, I chose to go the professional route and picked the internship. Also, I wanted to experience working in a different type of marketing than I already had in order to better form an idea of what I would like my career to be in.
I chose World Internships to help me achieve this because they were the most flexible in terms of the length of the program I wanted, the dates, and the payments. They really adapted to my needs which resulted in a program that was pretty much tailored perfectly for me.
What did World Internships do for you and what did you need to do on your own?
Marcela: World Internships was very helpful in arranging pick-up from the airport and to the site of housing. I arrived a few hours late due to a flight delay and they were very helpful in getting me to the orientation site, and later on to my housing. They had my internship placement ready, my housing, which was a home stay and included meals, and they had an orientation in place as well as several guided tours of the city.
Something that I did have to do on my own that many people are not aware of is that if you are not a citizen of the U.S. and your country of citizenship requires a visa to your country of destination, you have to do the whole process yourself.
In my case I had to get an appointment with the Spanish consulate located in Miami, FL (at least a month before date of departure but no more than 90 days prior to it) and have all the documentation ready for the interview in order to receive the visa. However, World Internships worked very fast to get me all the documents I needed from their end to present at the consulate by my scheduled appointment date which was extremely helpful.
If you could do-over one thing, what would it be?
Marcela: Packing. One thing that I was definitely not expecting was how casual people dress in Barcelona. My internship description had stated "business casual" which I came to realize means something completely different here in the States than it does in Barcelona.
For work here I usually wear slacks or dress pants and a nice long-sleeve blouse or sleeveless business blouses, since I am in Florida. Well, this is the way I packed for my trip; a few nice business dresses, some pencil skirts, slacks and nice blouses. I did not get to wear any of it.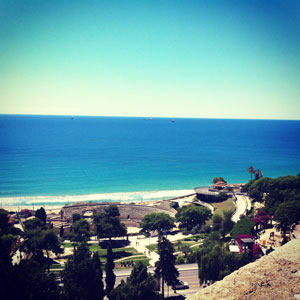 After the first day at my internship, to which I wore black slacks, a maroon sleeveless blouse, a black blazer, and black 1.5" heels, I realized I was painfully overdressed. Everyone at my work wore jeans and t-shirts, or jeans and nice blouses, and no one, not one female wore heels.
I had to buy some jeans and pair them with my blouses so I wouldn't stand out so much and I realized it wasn't just my place of work, everyone from the program who I spoke to let me know they encountered the same problem and had to buy some new, more casual, attire for their internships.
My advice? Pack a few nice pairs of jeans, light blouses/nice shirts and nice comfortable shoes.
Did you run into a language barrier? Did you ever think you knew more/less of the language?
Marcela: Because I was born and raised in Colombia, I am a native Spanish speaker which was a big influence in choosing the location for my internship. However, I did not realize how far removed Barcelona is culturally from the rest of Spain and how big of an influence their own language, Catalan, has in their culture.
My first shock came when I arrived at El Prat Airport in Barcelona and noticed that all the signs were in Catalan first, the English and last in Spanish. I
found myself wondering if I was still in Spain. From then on and throughout my time in Barcelona I learned more and more how strong the Catalan culture is in this region of Spain which was something I had no knowledge of what-so-ever before embarking on my journey. I do not think it was a barrier, as everyone spoke Spanish as well, but it was a huge learning experience that I was not expecting.
What was the best place you visited outside of your intern abroad city?
Marcela: The city of Tarragona is only a few hours away from Barcelona and I must say it is one of the most beautiful and magical places I have ever been to in my life. This little Romanesque town has an insurmountable amount of history and culture.
It has the feel of a small and quaint town with structures remaining from the Roman Empire and Medieval era that makes it stand out and gives it a certain personality that I have not experienced in many other places. Combining that with the view of the gorgeous waters of the Mediterranean Sea gives the whole place an incredible and magical feel.
I fell completely in love with this city as I overlooked the beauty of the ocean from the ruins of the Roman coliseum. The contrast between the scenic beauty being taken in from a place with a history of such pain and barbaric entertainment was something I will never forget.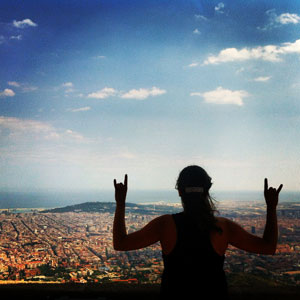 Describe your favorite must-have food that you tried abroad.
Marcela: Barcelona, I learned, has many typical dishes that vary from the well-known Paella, Tapas, and Sangria known world-wide. Must-have foods are all the local delicacies that you cannot find as easily.
My favorites were Cava, which is a drink similar to a sparkling white wine, best comparable to champagne but is only made in Spain, mostly in the region of Catalonia where Barcelona is located, Fideua which is a Paella-like dish containing seafood and noodles, instead of rice, prepared with a special garlic-based sauce.
The best Fideua I tried was in Tarragona. Other favorites included Pan Con Tomate, Crema Catalana (similar to Crème Brule) and Gazpacho.
Do you feel you got a chance to see the city from a local's perspective?
Marcela: I made the choice to do a home stay for my housing arrangement and I will say it was completely and absolutely worth it. My host was a single woman who works as a tour guide in Barcelona. She speaks five languages and is an incredible cook.
I learned so much from her about the history and culture of Barcelona as well as where to go and what events to attend. Every week she would give my roommate and I a list of things to do, places to visit and event to attend for free. She was a huge influence in my experience and I will be forever grateful to her or being such an amazing host. I truly believe that I got a local's view of the city and because of this I have promised myself that I will go back to Barcelona, no matter what.