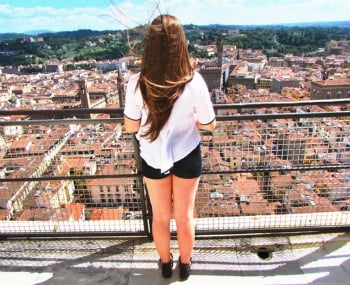 Describe your day to day activities.
Sivan: We woke up in the morning on our own and got ready for the day. We were staying in separate apartments so we were all on our own for breakfast (we loved cooking in our little kitchen). Then we all met in our staff members' apartment and talked about the day ahead. During the week, we took a morning class. I took photography in which we learned different skills and walked around Florence capturing pictures. We broke for lunch and we could go out or cook back in the apartments. The afternoon was free time or they offered optional, various afternoon activities.
In the late afternoon we had our second class. I took cooking, where we learned different authentic Italian recipes! We had different types of dinners each night (group catered, group out, group cooking, or free choice to do what we pleased). At night we had more free time or the choice of different evening activities. On the weekends our schedule was different, because we traveled to different cities by bus or train.
Ten years from now, what's the one thing you think you'll remember from the trip?
Sivan: Absolutely the people and the staff. Everyone bonded so quickly and it made the experience so amazing.
Has your worldview changed as a result of your trip?
Sivan: Absolutely. I never knew how comfortable I could be in a foreign country with 25 strangers, but this experience showed me I could. It definitely proved that even in a big city, you never really feel alone.
What was the most interesting cultural difference you encountered?
Sivan: One day at lunch we went to a classic trattoria. It was pretty well known and it was so crowded. They change the menu everyday based on what is fresh and it was communal dining. It was a small little placed packed with tons of people. We sat with an old Italian man, who spoke to us only through body language but we felt so comfortable sitting with this stranger. He was so happy to be there alone surrounded by a sea of foreign travelers. This
was one of the best cultural experiences I had there.
Where would you most like to travel to next?
Sivan: Back to Italy! I would love to continue to travel around Europe. I hope to study abroad in Spain. Eventually I would like to visit Greece, England, Scotland, Ireland, Norway, Sweden and the rest of Europe.