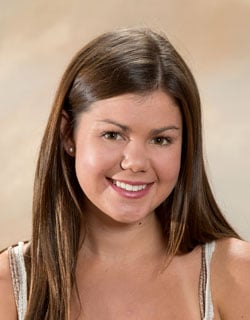 Describe a goal you set and how you went about accomplishing it.
Tara: The reason that I decided to participate in the Santiago, Chile program was because it was the only program through Syracuse University that would fully immerse me in another culture and force me to learn Spanish. While other programs send you to cool places, you mostly stay with other abroad students.
For me, my goal was to learn Spanish and to truly learn what it meant to be Chilean. And boy, did I do it. Being one of two students with the absolute minimum requirement of Spanish, I felt completely lost when I arrived. I told people that I smelled them, when I meant to say that I had heard them; I told people I was married when I meant to say I was tired; I, for some reason, agreed that I was a rat... the list goes on.
However, it was my goal to become fluent in Spanish and so, I never stopped trying. I continually put myself out there and made an idiot of myself. I made an effort to make Chilean friends and have them help me with my Spanish. All of my classes were in Spanish (not that I had a choice since I attended a Chilean University). By the time I was leaving Chile, I was not only essentially fluent in Spanish, but even in the U.S. six months later, I was asked if I was Chilean because my Spanish was so good (or maybe "bad" if you know anything about how Chileans speak Spanish...).
What made this experience unique and special?
Tara: The people. As with anything, the people are what make life experiences worthwhile. The people that I met abroad, no matter what country they were from, made this experience so unique and special. The fellow Syracuse students on my trip became my family, my rock and my everything and I talk to at least one of them every day.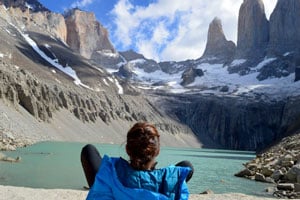 The other foreign students from France, England, Germany, Argentina, etc. were my partners in crime for touristy adventures, whether that was going backpacking or attempting to salsa. My Chilean host family became my real family, which in my case meant 10 mile Sunday runs, 5 hour lunches and tons of cumpleaños.
My Chilean friends showed me what it was like to truly be Chilean, which could mean anything from forcing me to eat a "completo," going to "asados" on school property or laughing at my inability to understand the micro. Each and every person I met abroad was incredible and unique and the memories that I made with them could not have been made with anyone else.
What was the best place that you visited outside your home-city?
Tara: To be honest, there are too many to count! I love South America and had the opportunity to travel so many places! However, if forced to pick one, the best place that I visited was probably Torres del Paine in Patagonia. Three friends and I hiked and camped the "W" trail and its tail in 5 days, which was one of the hardest hikes I have yet to complete due to the distance we covered, the fact I had to carry ALL of my gear and the weather conditions.
However, as hard as it was, it was also one of the most beautiful, peaceful and inspiring places I have ever seen. The water was an unreal blue, the landscape was so untouched by mankind and the air was so clean that I doubted any of it was real. Additionally, I met some of the most interesting and amazing people that I instantly clicked with, such as a filmmaker from Montréal who I recently visited.
Describe your most meaningful souvenir and why you love it.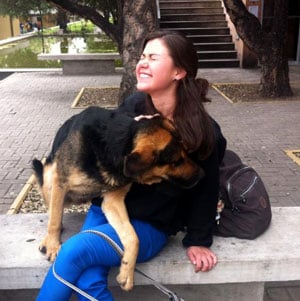 Tara: I am not much of a souvenir person, but the best souvenir that I have from Chile is a racing t-shirt. My Chilean host mother is an amazing woman. She is not only kind, beautiful and independent, she is also 60 and still runs marathons. Incredible.
While I love to run, I have never been a competitive runner and always prefer to take my time. However, my third weekend in Chile, my host mom really, really wanted me to do a race with her. Not wanting to disappoint, I agreed and found out the morning of the race that it was a half-marathon up a Chilean "hill," which, here, is basically higher than the Appalachian Mountains.
Not having trained at all, I was freaking out. However, I did it anyway and ran the entire thing (even though I almost threw up crossing the finish line and did not want to walk for a week). I had never been prouder of myself than in the that moment and, at the time, I had no clue that my host mother and I would become so close and would bond over our weekend runs.
The racing t-shirt not only reminds me of my host mother and of my half-marathon experience, but serves to remind me that anything is possible if I just put my mind to it and that is why it is my favorite souvenir.