Did you run into a language barrier? Did you ever think you knew more/less of the language?
Danielle: Absolutely! More language barriers than we ever thought!
There was the moments where the people we were trying to talk to didn't speak any English and we didn't speak any of their native tongue. There were also so many times when we were talking in English to people speaking English and still didn't understand each other.
A lot of things were a difference between American and British English, or just culture/regional references we didn't get. One of the most difficult things we came across was trying to get a bottle of water.We must have learned 3 or 4 ways to say water while in India.
Describe your favorite must-have food that you tried abroad.
Danielle: There were so many good foods! Some of the best where the ones that we had no idea what we had ordered, or what we were going to get, so there were no expectations. One of the foods I fell in love with was paneer. It's used as a meat substitute for the large vegetarian Hindu population. It's just cheese curd, so its got a texture similar to tofu, but takes more like cheese. And goes in everything from curries, to barbecued in a tandoor, or deep fried, and on a pizza.
Other things that I loved was cold coffee, a sort of coffee milkshake, and dosas, a chickpea flour like Indian crepe, filled with spiced potatoes and onions. Honestly, food is one of the top things I miss from my study abroad experience.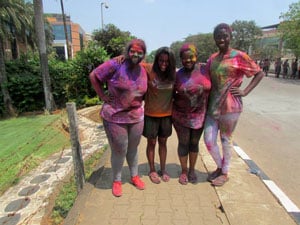 Do you feel you got a chance to see the city from a local's perspective?
Danielle: I definitely feel we got the local's perspective. We were living with a lot Indian students in the regular dorms on campus, going to class with other Indian students, and having meals with the Indian students in the dining hall.
We also befriended a lot of the Indian students, and they definitely showed us what being a true Manipal-ian was like. Like where to get a great Oreo milkshake after hours, which bars had the best music, and generally what was happening on campus. We had our group of American friends that we hung out with too, but also had a group of Indian's we hungout with too.
How has this experience impacted your future?
Danielle: Prior to this experience, I had little experience with public health, and that was the focus of the program. Getting to visit public health institutions, and learn so much about public health issues in India really opened my eyes to the concept of public health. I'd been thinking of taking a gap year after graduating, and after this experience, it solidified that I did want to take a gap year prior to medical school, and go back to India. So that's what I'm in the process of doing now, is finding a public health related program/organization in India to work with.
Describe your most meaningful souvenir and why you love it?
Danielle: My most meaningful souvenir is a queen size patchwork type tapestry that I got while independently traveling for the first time. I saw it hanging up at a stall near the beach we were visiting. I immediately loved it, and haggled it down to a good price. I didn't realize how large it was at the time, and how far that tapestry would have to come to now be hung on my wall in my apartment. Because not only did I have to get it from the beach, but on the train back to campus, and finally make room in my luggage to get it back stateside. But it was all really worth it, because it reminds me of my awesome experience every morning I wake up to it.
Do you think your program changed you as a person?
Danielle: I would say that no matter what, you'll be changed by your study abroad experience. There's so many subtle things that you don't notice change you as well. One of the largest personal changes that I had was a huge sense of independence. In the US I can't drive, and in India, none of us could drive, nor would we want to.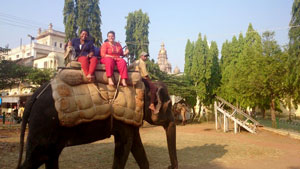 There's so much public transportation, from buses, trains, and autos, to friends with motorbikes. So being able to just pick up and go, whenever I wanted, was such a sense of freedom I haven't had before.You also get used to not knowing exactly what's going on, and just going with it. Being able to function with a high level of ambiguity was an invaluable skill I gained from my experience abroad.