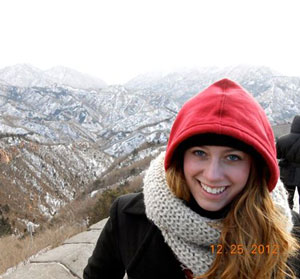 Why did you decide to go abroad with your provider?
Molly: Fortunately, I attended a university with a strong study abroad program. SU Abroad has a long, successful track record working with students from all corners of the campus and the country. SU Abroad has eight centers spread around the world, each with committed staff members ready to give advice, a hug, or a valuable volunteer opportunity.
I decided to go abroad with the SU Abroad program because of the excellent reviews from alumni about both its academic rigor and, perhaps more importantly, its devoted staff. Knowing that there were staff members within arms reach at the foreign university calmed my parents' nerves as well as my own. Furthermore, as a Syracuse University student, my university-specific scholarships followed me to my semester in Beijing.
How has this experience impacted your future?
Molly: As my return date to the United States approached, I recall feeling that I wasn't ready to leave China. I still had plenty to learn and experience, particularly in terms of language. I decided soon thereafter that I would plan to return to China following my graduation from college.
My semester in Beijing gave me the confidence and skill set to apply for the Teach for China teaching fellowship. Facing regular lingual challenges and cultural lessons in a safe, academic environment set the foundation for a future career in China. The lessons I learned at Tsinghua continue to influence my life here in rural Baoshan and sparked a lifelong love for the country and language.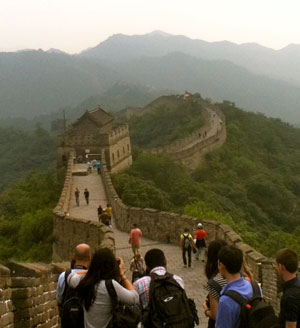 Describe your program socially and academically.
Molly: This program is rather small; during my semester, we had 13 students in total. This turned out to be a great feature of the program. My peers and I became a family and developed close friendships relatively quickly.
We felt that we could turn to each other in times of need. However, we also had Tsinghua University students in our Syracuse courses, auditing our classes and eager to speak with us. We socialized with friends that we met through class or through Tsinghua's extracurricular activities. Furthermore, the mandatory language classes (courses run by Tsinghua that all SU Abroad students must take) are made up of students from around the world that come to Tsinghua for top-notch language training.
I personally became very close with two friends - one from Malaysia and one from Finland - during my Chinese classes, and we spent time together on the weekends. This program is academically more rigorous than SU Abroad's other programs. In addition to daily Mandarin class, students take SU Abroad courses, which are all in English but taught by Tsinghua University professors.
Students with higher language levels can also opt to take a selection of Tsinghua University courses. Given the university's prestige and its highly driven students, these courses are generally more challenging. It is important to note that the language classes meet for several hours every day, and most students agree that this is one of the more challenging aspects of the program.
What made this experience unique and special?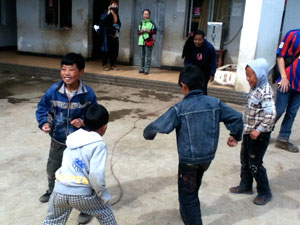 Molly: One of the most unique aspects of this program is what SU Abroad terms its "signature seminar" - a traveling seminar at the start of the semester (before other classes begin). The fall and spring semesters offer one of two different seminars.
As a student during the fall semester, my seminar explored development in rural China and examined its effects on ethnic minorities and the environment. The all-inclusive seminar brought us through Yunnan and Sichuan provinces, stopping in both large cities and small villages to meet with interesting and experienced speakers.
We toured historical sites, hiked into a Naxi village, and enjoyed the local culture and cuisine. The seminar was educational, eye-opening, and incredibly fun. If given the chance, I would take that seminar again in a heartbeat, and my friends agree. The signature seminar is an excellent reason to consider SU Abroad's Beijing program.