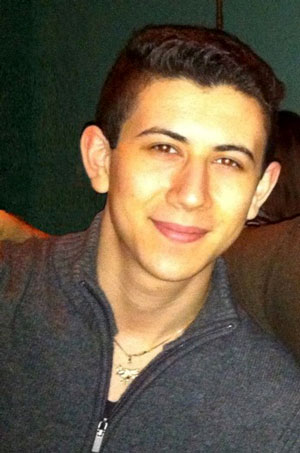 Why did you decide to go abroad with your provider?
Dean: I had studied Italian throughout high school and completed Rosetta Stone, but needed that final "immersion" step to lock down what I learned, start speaking more naturally, learn the idioms, etc.
Four months in Italy would have done the trick, but Pitt's engineering school doesn't support any semester-long programs in Italy. The next best option was a summer program, so I got in touch with Arcadia University, which has an incredible Global Studies school (there are over 100 abroad programs now) and allows students from partner universities access to it. They're so well run over there too.
You get an online checklist of everything you need to submit—transcript, forms, fees, flight info—and they take care of the rest. All you have to do is get on the plane and someone will meet you at you destination. If your school doesn't offer the program you want, check out Arcadia.
What made this experience unique and special?
Dean: My friend Joe put it this way: "Lecce has a heart." Twenty-something people arrived there last year, each just as discomposed as every other by being in an unfamiliar environment and felt the same compulsion to leave on the plane their most unadventurous habits, set life across the Atlantic to pause, and delve into their new home for a month. The result was that everyone, teachers included, quickly became like a family and no one had to experience the common fear of being alone while away from home.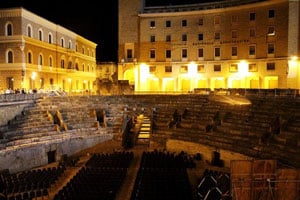 I actually had it in my head that I would keep to myself and focus on the academics, but the vitality of the people and the city are infectious and eventually won out. You'll learn just as much out to lunch with a friend, animatedly discussing the cavallo on your plate, as you will in your lessons.
Describe your most meaningful souvenir and why you love it?
Dean: The entire city of Lecce is pretty much made out of one material, la Pietra Leccese or "Lecce Stone," a soft, white/gold limestone. It's very chalky and can be scratched with a fingernail, and yet there are buildings hundreds of years old made out of it that are still standing in marvelous condition.
You can understand the care that the locals take in maintaining their fragile city and the reverence they have for its beautiful uniqueness. When I got back home, a very close friend I had made in Lecce gave me a necklace made out of the stone. Certain souvenirs—T-shirts, snow globes, even artwork—are, but for the name on them, indistinguishable from one place to the next, but this necklace is unique. It's quite literally a piece of Lecce.
Did you run into a language barrier? Did you ever think you knew more/less of the language?
Dean: I went into the trip with a pretty good grasp of the language simply due to having studied it for so long in school. The challenge, however, is not knowing the language but being able to converse with it.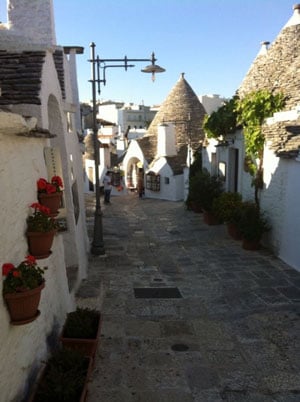 In a classroom, you can often formulate a sentence in your head and then deliver it as though it were off the cuff, but in casual conversation with a native, there's no fooling anyone. Furthermore, the collective grasp of English in the south is limited, so for about the first week, we all had to humble ourselves and stumble through conversations (the Italians were all gracious though and happy to bear with us).
After that though, many of my friends and I started unconsciously thinking and even dreaming in Italian and from that point on, it became easy to express our thoughts with what we knew, as naturally as we would in English.