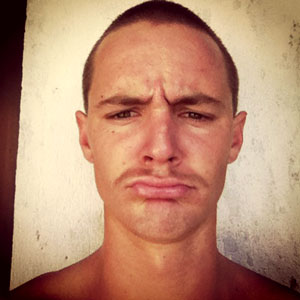 Why did you decide to go abroad with your provider?
Brock: In the beginning, I had decided to go with USAC Puntarenas for two reasons: the surf and the Spanish. Costa Rica is known for some of the best waves in the world and there is no better place to learn Spanish than doing so while surfing with your best mates.
However, in the second part of the year, I had decided to stay with the same program instead of going to Spain because my program and my program advisors truly looked out after me and were willing to work with my schedule in order to keep me satisfied. Being an agriculture major, they had organized an internship in a nearby agricultural supply chain in which I put in about 200 internship hours and was one of the best experiences I have ever had in my life. Having a job abroad, completely set up by my advisors was such a blessing in order to learn Spanish and completely feel like I was a part of the community.
What is one piece of advice you'd give future students traveling with your program?
Brock: One piece of advice that I would like to give to future study abroad students about your program is "GO!" Study abroad programs main goal and job is to make sure that students are having fun, learning a lot and experiencing new things.
With that being said, every activity, field trip, class event, and week long vacations with your program are 100% designed to make sure the student has the best time possible. Programs know what students like and dislike and therefore, the best piece of advice I can give is to go and participate in all activities. After being abroad for almost 1 year and hearing lots of regrets about activities students wish they had taken advantage of, I would say almost all of them were activities that the program had organized.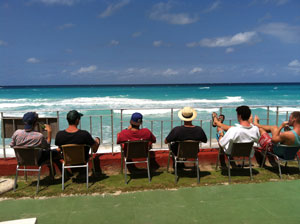 What have you learned about yourself through your time abroad?
Brock: Before going abroad, I was a very high pressure, high energy and very stressed out person when it comes to work, school and uncomfortable environments. Latin America in general has such a laid back, family oriented type of culture that at the end of my time has definitely lowered the levels of anxiety that comes with stressful situations.
When it comes to waiting for busses for hours on end, or having trouble crossing borders and sleeping in run down hostels or in a bus station, all has changed the way I look at my life and what is important and worth stressing out about. This is the one thing that I have learned most about myself and about traveling for the past year.
Tell us about any interesting cultural tidbits you noticed about your country.
Brock: I lived in a very small beach town on a little inlet in Costa Rica, roughly about 6 streets wide and maybe a population of about 3000. With that being said, the most interesting tidbit that I learned about this community was the family orientation.
I grew up in a larger town and didn't really know my neighbors or the people down the street but in Puntarenas, everybody treated everybody like family members, everybody knew everything about everybody and everybody loved to talk about everybody. This comes in positive and negative ways but this was the cultural tidbit that I found most interesting about moving to a small little fishing town in Latin America.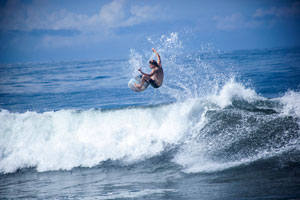 What made this experience unique and special?
Brock: This experience was unique and special because I saw some of the most beautiful places I have ever seen, surfed the heaviest most tropical dreamy waves in the western world, ate great food and most of all, doing it all with my best friends.
The friends I made abroad are lifelong friends and even though I only knew some of them for 5 months and others for the full year, these experiences and travels have created lifelong relationships that can never be taken away nor forgotten.