Why did you pick this program?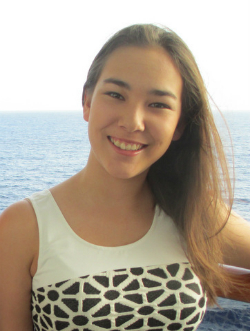 As soon as I saw the Loop Abroad trips, I didn't continue looking for other summer programs. I knew that I had found the right one for me.
Loop had everything I could have looked for in a summer program; an exotic new culture, adventurous outings, but still plenty of time to relax, volunteer work with extraordinary animals, and even a little bit of cooking school! The itinerary was pretty much all of my favorite things packed into two weeks.
I had never visited Southeast Asia before, and Loop Abroad provided me with the perfect opportunity to expand my horizons. Many of my friends and family had nothing but great things to say about Thailand, so I was thrilled that I had picked a great program!
What is the most important thing you learned abroad?
The most important thing that I learned while in Thailand was to be adaptive!
While traveling, you're taken away from what you consider normal and are plopped into something else. Pretty quickly you find that what you'd do back at home is NOT exactly what you should be doing in another country.
Not only ten minutes after we landed did I realize that you should always carry tissue or toilet paper with you, I also realized that (after one pitiful attempt) you cannot flush toilet paper down the toilet...
Although Loop Abroad provided us with a wonderfully organized itinerary and schedule, you quickly learn that there are some obstacles that you just can't avoid and have to plan around. An impromptu thunderstorm may set you back from going to bathe elephants, but instead you can go tubing!
Learning to be adaptive was one of the most important things that I learned while abroad, and I have continued to grow because of that.
What do you tell your friends who are thinking about going abroad?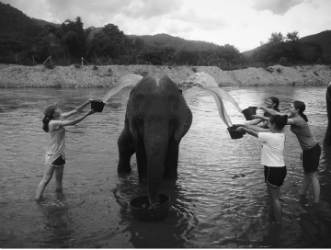 I think that when you are presented with an amazing opportunity to experience new things, you're given a chance you cannot pass up! I always say go for it!
Many of my friends are pretty hesitant to make a decision about going abroad, but I think that any chance you get to spend away from what you're used to is a possible experience that can help shape your life.
You come away from an experience, like I did with Loop Abroad in Thailand, a different person. Now, I know that sounds pretty cheesy, but its true! You have gotten to experience situations that your friends could only dream of and you get to taste foods your favorite restaurants can't even come near recreating.
Being exposed to a different culture is such a wonderful opportunity that really does change your life. It doesn't matter where you're thinking of going, because you'll always come away with lasting memories. So if you're thinking about going abroad, do it!
What was the hardest part about going abroad?
The hardest part of going abroad was being away from home. Traveling to Thailand was the first time I had ever spent overseas without my family, so pretty quickly I had to learn to take care of myself.
Without my parents there I had to be more attentive and keep track of all the things I would usually count on them for. I had to pay attention to how much water I was drinking a day to stay hydrated, if I needed to do laundry, and I ended up learning how to manage my money!
Spending two weeks away from home was challenging at first but then I began to relish my freedom! Being able to eat three plates of mango sticky rice for dinner or spending money on 15 pairs of Thai pants are decisions that I do not regret! (Even though my freedom may or may not have resulted in a stomachache and ten pairs of pants too many...)
What is one piece of advice you'd give to someone going on your program?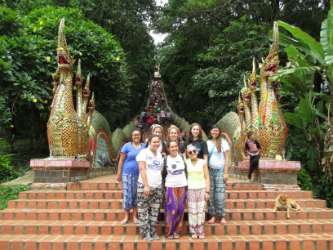 Try everything! During the trip, you're given lots of opportunity to try out new things, or maybe just things you've never had the guts to do back at home. I definitely recommend giving everything a try, and hey, you have more stories to tell your friends back at home!
Whether its going white water rafting (during which I whacked our group leader in the head with a paddle) or trying new fruits (the smelliest fruit, durian, really isn't that bad...) I have lots of great stories to tell my friends.
Even when there are things that you aren't so sure about trying, like dropping from a platform high in the trees or stepping into a tigers cage, the Loop Abroad group is extremely supportive of your decisions and is always willing to give you encouragement and support when you're nervous.