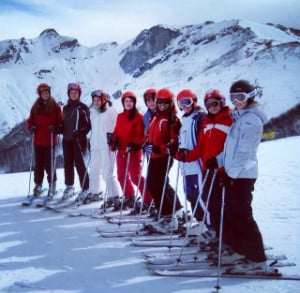 Why did you pick this program?
I chose the Greenheart Travel Teach English in Italy Volunteer program because I really wanted a cultural emersion experience. I was looking for a homestay program where room and board were included, and I felt like the timing of the program was perfect.
3 months was enough time to enjoy a taste of the culture without getting too homesick. The teaching commitment was also only 15-18 hours per week, leaving me plenty of time to explore and travel.
What do you wish someone had told you before you went abroad?
That everything would be on sale when I got there. I arrived during the season where everything is discounted. I stocked up on warm clothes before I went on the trip, but I really should've waited until I got there to shop.
ATMs (Bancomats) will give you the best exchange rates. I was unfortunately misinformed before I went, and I brought a lot of American cash to exchange for Euros. I quickly found out cash exchange places typically have an unfavorable exchange rate.
Turn your phone on airplane mode the whole time or remove your sim card or you will be charged for roaming. A cellphone plan there is super cheap if you want to get an Italian sim card.
It's typically only 10 Euros for 250 minutes, 250 texts, and 1 Gig of data. Go to Wind, Videophone (owned by Verizon), or Tim if you want to go this route.
What is the most important thing you learned abroad?
I learned that many of the things we consider "normal" are just social constructs. What's normal in America is very different from what's normal in Italy, and culture dictates everything from gender roles, comfortable proximity and personal space, to the perception of time.
By learning about other culture, tapping into their core values, and finding out what's important to them, you start to realize the meaning or reason behind different cultural attitudes and behaviors.
What do you tell your friends who are thinking about going abroad?
Just do it! Invest in a life experience. 50 years from now you will not regret going, but you will regret not going.
Aside from the carpe diem pitch, I tell my friends that the experience makes you a more open person. You learn and grow by being forced out of your comfort zone and adapting to a new environment.
One of my friends is doing the same program next January 2016. It really touched my heart when she told me I inspired her to travel.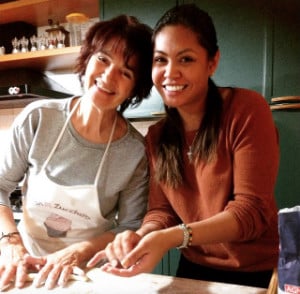 What was hardest part about going abroad?
Being apart from my family, friends, and boyfriend.
To a lesser extent adapting to the lack of ethnic diversity, cold, and limited food choices. California's population is made up of people from all different cultural backgrounds, and I missed this dynamic while I was abroad.
California is also very warm year round, I had never experienced a snowy winter, so it took some getting used to. And although Italian food is my favorite type of food, I missed having variety.
What's your favorite story to tell about your time abroad?
My boyfriend had come to Italy to surprise me for Valentine's day. I had planned a trip to Modena, Bologna, Venice, and Florence with my host brother during the week of Carnevale. We were staying with his relatives in Modena and taking day trips to the different cities.
On the second day of our trip, my host aunt asked my host brother and I to accompany her to the airport because she had to pick up a friend. We were waiting for her friend to arrive at the terminal when I saw my boyfriend coming through the arrival gates.
I was so shocked because I wasn't expecting him to visit me in Italy, but I was happy he did. :)
What made this experience unique and special?
My two host families. They were both very kind and welcoming. They provided me with great accommodations and made sure I made the most of my trip.
I had my own floor when I stayed with my first host family, and I stayed with them for the first 2 months. They were super nice and helpful, and I grew really close to them. We traveled together throughout Italy, and my host brother is visiting me in California right now. I'm hosting him for a month and a half this summer.
During the last month, I was with my second host family. My second most mom taught me how to make authentic Italian food from scratch. My host sisters in my second family were very kind, and I had a really beautiful view of the alps from my backyard.
Tell us about an experience you had that you could not have had at home.
Walking to an airport and getting a round trip flight from one country to another for only 65 Euros. It's quite affordable to travel within Europe and the public transport system is more efficient than it is in Southern California, so you really don't need a car to get around.
Me and my Greenheart Travel buddy, Madeline took a train from Cuneo to Nice and a plane from Nice to Barcelona. The train station was 10 minutes walking distance from the airport. We only had 30 minutes for the transfer, so we booked it from the train station to the airport.
In America, they probably wouldn't be able to walk to the airport because everything is more spaced out. We probably wouldn't have been able to get through security so fast and check in so close to departure time.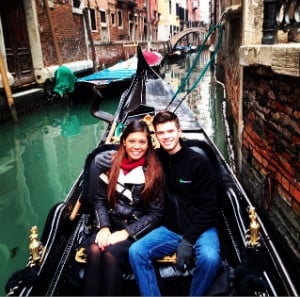 What is one piece of advice you'd give to someone going on your program?
Do your research beforehand. Be proactive and make an effort to reach out to your host family and school to make sure you know what's expected of you in terms of chores and teaching schedule.
Ask if the school is going on any trips during your stay and request to join. I went on 3 trips with my school. A day trip to Turin, a week in Rome, and a week traveling to Salzburg, Prague, Munich, and Lichtenstein.
Learn basic survival Italian. I recommend bringing Rick Steves' Italian Phrase Book and Dictionary and carrying it around with you.
Any Tips?
General Tips
Be on the lookout for pickpockets. Two of my friends had their stuff stolen in transit. Always keep your bag and wallet close.
Don't put all your money/cards in one place just in case your stuff does get stolen.
Do not buy souvenirs or gelato for over 4 Euros.
Learn survival Italian before you go. It will help you get around.
If you plan on taking trains between the big cities book tickets on Trenitalia in advance. Trains are often late (retardo).
In Italy, it is not customary to tip, and some people find it insulting. Restaurants do however charge you for sitting down, a cover charge (coperto).
Cafes are called Bars and they serve espresso (cafe). Stand up by the bar to avoid having to pay a coperto, and menu items are cheaper if you stand than if you sit.
The bread and water they serve you isn't free unless indicated. They may charge you for pane or grissini. That's bread.
A cellphone plan there is super cheap if you want to get an Italian sim card. It's typically only 10 Euros for 250 minutes, 250 texts, and 1 Gig of data.
Download and save maps on your phone.