Why did you pick this program?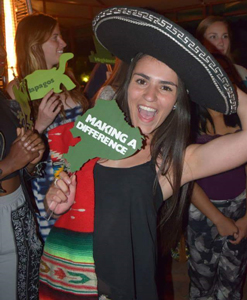 What caught my eye about EcuaExperience was the location in which you would be doing the volunteering. I had been looking to volunteer somewhere in South America (ideally Colombia) but no other programs had caught my attention. EcuaExperience offered its program in Ecuador so it immediately got me interested.
The thing that convinced me in the end was the medical program that they also offered. Since I want to go into med school, it was a no brainer to pick EcuaExperience because it offered the volunteering that I was looking for, and also some medical experience and opportunities. Being able to tour all over Ecuador was just the cherry on top that EcuaExperience offered.
What is the most important thing you learned abroad?
The most important thing I learned on my trip abroad was that you can always make a difference. Regardless of how small your efforts may be, it can make a huge difference in someone else's life. My volunteer portion consisted of building 20 homes for a underprivileged and very deserving community in Pujili, Ecuador.
After having the opportunity to participate in such a great project, you become more humble and you learn a lot of things about yourself that you didn't know before. You realize how privileged you are and that you should always be thankful for everything you have in your life. The families I worked with always managed to smile regardless of their current life situation, so that ultimately taught me to always smile and be grateful.
What do you tell your friends who are thinking about going abroad?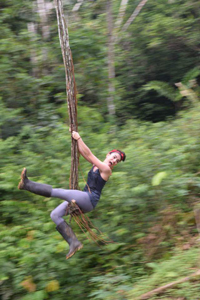 DO IT and don't let anything stop you from going! Going abroad is a life experience that I think everyone should get the opportunity to take part in. It teaches you independence, responsibility and you build some friendships and relationships that will last you a life time.
Research a program that you think is best suited for your interest and go with it. I would also recommend going somewhere you would feel more comfortable especially if it's your first time going abroad. This could be somewhere you may have been before or somewhere where you speak the same local language.
What was the hardest part about going abroad?
The hardest part for me was seeing all the things that I was missing out on back home. My program was during the summer and that is always when most of the fun activities happen with your friends. The way I dealt with it on my trip was to not check my phone very much. If I wasn't plugged into social media, I couldn't see what I was missing out on.
It also helped a lot to stay busy and my program always made sure to have an activity planned for us each day. When I returned home, I realized that what I had missed out on, was not even comparable to the things I experienced and took part in on my trip.
What's your favorite story to tell about your time abroad?
My favorite story would be our bus ride to Misahualli. This little town is right in the middle of the rain forest so we had to travel through a lot of mountains and vegetation to get there. At one point in our bus ride we found ourselves literally driving through clouds because we were so high up in the mountains.
Whenever an opening from the clouds would appear, all you could see was rain forest for miles on end. Never had I seen such beautiful scenery and I will always remember that landscape. Later that night, my group all found chairs and placed them on a ledge over looking the amazon river. We spent the night watching the stars and listening to the rain forest night life.
What made this experience unique and special?
Having the ability to speak Spanish made my trip unique and special to me because I was able to communicate with the locals in a way that non of my other group members could. I had the opportunity to talk to the families we were helping and understand what their daily life was like.
Even having the ability to talk to our tour guides while doing our activities made them all that more fun for me. Speaking the language also helped me immerse myself more in the culture and to be able to get a complete understanding of the Ecuadorian way of life.
Tell us about an experience you had that you could not have had at home.
Having the ability to be in a hospital environment is very hard to come by in Canada and especially in your undergrad. EcuaExperience gave me the opportunity to scrub into surgeries, interact with patients, perform physical examinations on patients, draw blood, take pressure, learn and practice stitching, take part in rotations of radiology, ER, paediatrics, sports medicine, internal medicine and OR.
The medical portion of the trip completely surpassed my expectations and I'm very grateful to have taken part in them because it helped reaffirm my choice in pursuing a career in medicine.
Is there anything else I can expect on the program?
I would say you should look forward to some fun partying with all your friends. It obviously depends on the people in your group and the size of your group but regardless of that, its always a fun time. The program gives you a lot of freedom in what you can do during your nights when there isn't a set activity, which means you can party all you want if you choose to.
The trip also has set nights that are planned to go out and experience the Ecuadorian night life and trust me its a blast. Spanish people are super fun to party with. You can also look forward to Canoa beach. The owner of the hotel is an absolute blast and you can expect to be partying with him for 4 days straight.