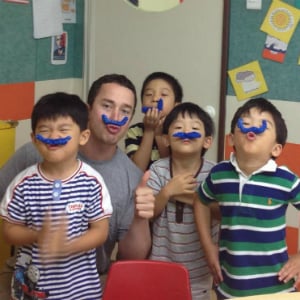 What was your favorite traveling experience?
It is hard to narrow it down to just one! While I was traveling in central Vietnam me and a few travel buddies just happened to be in DaNang for the first ever DaNang Music Festival! It was headlined by The Venga Boys!
We were the only foreigners at the music festival and after my friend Mike snuck backstage we were invited to the after party. We hung out and partied with the Venga Boys all night in central Vietnam...it was strange to say the least!
What country have you always wanted to visit?
I have always wanted to visit Liberia! My father was a Peace Corps volunteer there in the mid-1970's. During the civil war there my family sponsored a Liberian refugee who my father had taken in during his time in Liberia. Tamba has since become a very close family friend and a US Citizen. I think it would be really interesting and enlightening to see where he came from!
What's your favorite ethnic dish?
Korean BBQ! Specifically Gabi, Bulgogi, and Samgyeopsal I can't just choose one. I love the communal eating aspect of Korean Barbecue. I taught kindergarten and elementary school in Korea which was extremely tiring. After a long week of work, I loved going to grab a BBQ with friends.
What changes would you make to the intern abroad industry?
I wish there was an industry-wide counsel to ensure that organizations were providing quality programs. The quality of the programs Global Experiences offers is one of the biggest reasons I decided to apply! However, it can be difficult for students to tell which organizations are older, more well established, and have great quality programs, compared to those newer organizations with fancy websites. It's important to ensure that providers are committed to quality educational programming, and a stamp of approval from an industry organization would help ensure that people could differentiate between providers.