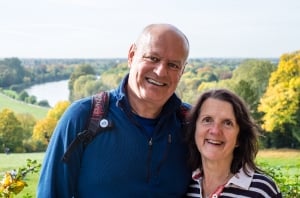 What is your favorite travel memory?
Trekking in the Himalayas in 1985 on our way to Annapurna Base Camp in Nepal. Before the final walk into the incredible Annapurna Sanctuary we settled down for the night in a small hut below Machupachare (The Fish Tail Mountain). As we were about to sleep one of our guides shouted "The Mountain, The Mountain" and on quickly rising from our sleeping bags there towering above us free from cloud for the first time on the trek was the incredible Fish Tail Mountain. A sight I will never ever forget. Quite magnificent.
Which destination is most underrated? Conversely, which is most overrated?
On a trip to South America in 2005 we spent several weeks in Chile travelling to the far north and the Atacama Desert. This area in my view is one of the most beautiful locations in the world and in parts is compared to the surface of the moon. The colors, the sky and the people all contribute to a quite fantastic experience. In my view Chile should top any itinerary whilst travelling in South America.
What do you believe to be the biggest factor in being a successful company?
Providing excellent customer service by understanding what the customer needs and then doing everything you can to be 'world class' in everything you do with them.
How have you changed/grown since working for your current company?
My understanding of different cultures has developed greatly around Africa and Asia and also my understanding and knowledge of the upper school processes for young people.
What unique qualities does your company possess?
Africa Asia Venture (AV) prides itself on giving young people personal attention from the minute they contact us and then beyond their venture by working with them at school fairs and also assisting them with CV and interview preparation.
Describe a time when you felt especially proud to be part of your current team.
Following a weeks student induction program in Naivasha in Kenya that covered culture, language, safety, top tips on working in schools and health issues we took the students to their projects around the west of Kenya near to the Ugandan border. The excitement and commitment of the students despite many being well out of their comfort zone was very rewarding and made me feel proud to be involved with AV.
What is the best story you've heard from a return student?
There are so many stories of personal development, passion for the project they were involved with, life changing experiences and many returning to carry on working with the community and setting up their own projects well beyond their initial venture. I also quite like the story of our van being stopped and turned around and having to return to a small village in India to pay for a chicken that we had apparently driven over and killed.