What is your favorite travel memory?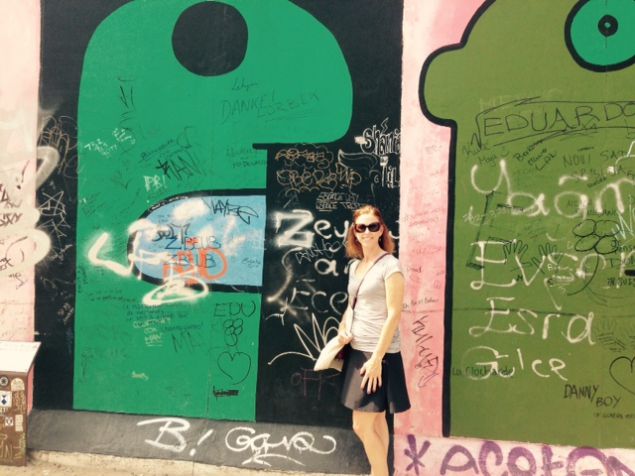 Taking the group excursion to Greifswald, Germany as a wonderful opportunity for me. I was able to observe how the German Language program students and the Global Entrepreneurship students came together for one weekend.
We all traveled together by train to Greifswald, a quaint little picturesque town in the North on the Baltic Sea. We stayed at the Youth Hostel in town, which had a large open area for soccer and volleyball. It was great fun to watch the students get to know one another.
The architecture in Greifswald was beautiful and the students enjoyed the contrast between the big city life in Berlin and this adorable university town.
How have you changed/grown since working for your current company?
As a language lover, I needed an opportunity to become a language learner again. Going to Berlin provided the perfect opportunity for me to focus my language learning skills on learning German. While in Berlin, I sought out as many opportunities as I could to utilize German with the local people. I am grateful for having had this opportunity.
Additionally, I personally needed a good refresher on my metro-taking skills. Being in Berlin was the perfect remedy for this, as the city is enormous and one often must change trains 2-3 times in order to get to a destination.
If you could go on any program that your company offers, which one would you choose and why?
I would love to go to see the program in Valparaiso. As diverse as my school district is, there is little opportunity to meet people from Chile. I would love to see how different the Spanish language is in Chile and to see how their culture is.
What makes your company unique? When were you especially proud of your team?
The security in Berlin at the study center was quite impressive. I appreciated how hard the Program Leaders were working to keep all of their students safe. I think this type of experience is unique to CIEE.
The company hires American high school teachers who are accustomed to working with American teenagers.
The 4 Program leaders I had an opportunity to get to know worked very hard at putting together meaningful "Into the Community" programs for their students. They also impressed me with how quickly and how well they had already gotten to know the students in their charge.
What do you believe to be the biggest factor in being a successful company?
Personalization. I observed how well the Program Leaders worked with the German teachers in Berlin and how well they worked with the local CIEE employees in Berlin. All of these people working well together is what makes for a wonderful experience for the students, without their even realizing how many people are working behind the scenes to make it all happen.