What is your favorite travel memory?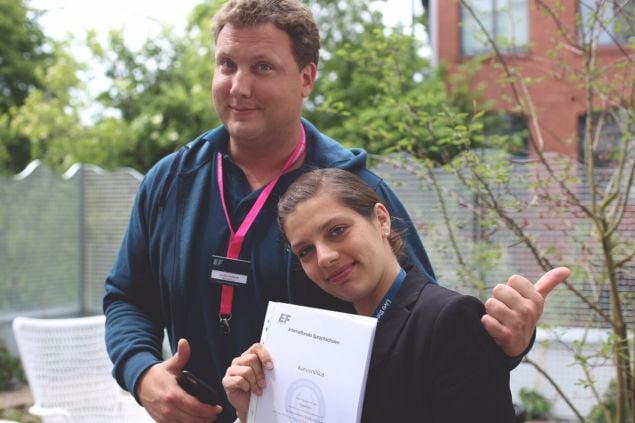 There are plenty of travel memories which make me excited about my job! But one that still makes me laugh was when I went on my first language course (to France) at the age of 18.
I wanted to order French Fries (in German, we say "Pommes") in a restaurant - but I got an apple juice instead ("pommes"="apple" in French)! These situations and misunderstandings are part of an experience abroad and how you learn outside the classroom!
By the way - almost 20 years after my first language course abroad, I am still in touch with other students from New Zealand and South Korea!
How have you changed/grown since working for your current company?
Working together with colleagues and students from more than 50 countries has definitely broadened my mind! You never stop learning about cultural differences; it is great to see how so many different nationalities become friends and learn from each other.
What is the best story you've heard from a return student?
A couple of years ago, during my time at EF Santa Barbara, two students from different countries fell in love with each other: They got married in 2015!
If you could go on any program that your company offers, which one would you choose and why?
I would go on a multi-language year to learn 3 different languages in 3 different countries because it is a very special world trip. My advice for all students in addition to their classes: volunteer for a social or environmental organization to practice the language, to get in touch with locals and to broaden your horizon!
At all EF schools, there is a staff in charge of volunteering and internships to support you with these plans.
What makes your company unique? When were you especially proud of your team?
Apart from an impressive nationality mix at EF, with students from more than 50 countries, students benefit from our philosophy to offer "more than just a language course".
We believe that daily activities, excursions, an active school community and the right accommodation options are as much part of a language course abroad as the classroom experience.
While many language schools outsource services to external agencies or only work with free-lance teachers, our permanent school team consists of employed teachers and service staff to ensure full quality control for classes, accommodation and activities.
When I was especially proud of my team? In 2015, less than one year after its inauguration, EF Berlin was accredited by EAQUALS ("Evaluation and Accreditation of Quality Language Services") with "points of excellence" in 11 out of 12 areas. This is an outstanding result for a new school with a young, but qualified and highly motivated team!
What do you believe to be the biggest factor in being a successful company?
It's all about the team. People notice the difference if you work well together as a team and if you are passionate about what you do and believe in it!