What is your favorite travel memory?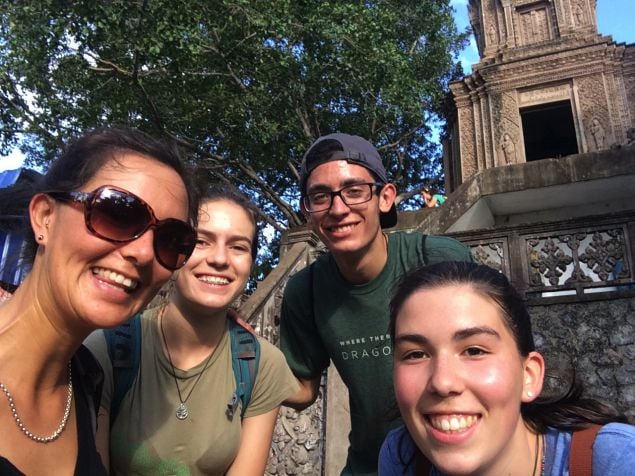 There are too many to count! Recently I was with students in a rural homestay in Cambodia on the Bassac River. The homestay village is located on an island called Koh K'sach Tonlea in the middle of the river, so we were surrounded by water. It's a magical place.
Students and instructors alike really embraced island life and we became part of the community. On the last night we threw a big party to thank the villagers for their kindness and hospitality. Each student got up and thanked their host family and vice versa. There were many laughs and tears. I was so moved, even though there was a huge language barrier everyone was connected.
Then we had around 30 of the village kids join us dancing. It was like a sea of smiling children all jumping to the beat of the music. I had never experienced anything like it. It was profound. It's hard to answer questions like this, but I have left a piece of my heart on that little island. I know I have a home and a family waiting for me when I return to Cambodia.
How have you changed/grown since working for your current company?
Since working for Dragons I've become much more aware of how stressful life can be for students back home. I mean, don't get me wrong, I was stressed out too when I was finishing school, but it was different.
I didn't have my own smart phone until I was 22. We don't allow students carry their own phones on course. I really see the benefit of this. It helps students to stay present and to embrace their surroundings without feeling the need to post a pic on Snapchat.
Working for Dragons has changed my view of technology. Like all things, it depends on how you engage with it, but now I am much more aware of my own social media addiction. So yes, for me personally it has changed the way I use my phone and social media. Now even off course I feel more able to stay present. I check my phone less often and I am less stressed. I am very grateful for that.
If you could go on any program that your company offers, which one would you choose and why?
A student asked me this while we were on course a couple of weeks ago and I said any. Honestly, I'd be up for any Dragons course. I love trekking and outdoor adventures as much as sitting and meditating in an ashram or discussing world politics and history.
I truly think that each course is well thought out and brilliant in its own right. Each course offers a unique and invaluable experience.
I want to do all of them! And in reality, no one ever does the same trip twice. I've led the Cambodian summer program and Mekong fall semester program. I loved them both, but for different reasons. They challenged me in different ways and I grew from each of them. I think the students forget that sometimes – We are people too. We are growing through our own experiences with them too.
This spring 2017 I'll be instructing the Indonesian semester course and I'm super excited to go. I feel very lucky to have the opportunity to work with Dragons and our students on three different courses. So yes, I am sorry to not answer the question directly, but that's the truth.
I think that as long as you are physically and mentally fit and are willing to tackle any experience with an open mind and heart any course will be a great experience.
What makes your company unique? When were you especially proud of your team?
Dragons is a very special company. The community is one of a kind and it's what makes it unique (it's like working in a big family… everyone is kind of crazy, but in an amazing way). They do a fantastic job recruiting down to Earth, interesting and passionate people. They support creativity, they allow us to test new ideas and to be ourselves.
The people behind the scenes and on-ground are some of the most inspiring and innovative I have had the pleasure to collaborate with yet. They are passionate about their jobs and you can tell. They genuinely care. We want to run 10/10 programs every time. That kind of energy and drive is infectious and it keeps us all going.
For me personally I love it when my work doesn't feel like work. Everything flows between the instructor team and student group we are able to joke around while being productive. If someone is tired then the others pick up the slack and we soldier on. Other times, when things are more serious, we bond together to resolve conflict and student issues.
For instance, during the fall Mekong course we did a trek to Yubong, China. It's a solid trek, all uphill for around six hours. One student was struggling to cope. She was experiencing a whirlwind of emotions and didn't want to go. My co-instructor, Som, was so patient and kind helping this student. He walked by her side, step by step, encouraging her and supporting her the entire way.
It was moving to see and I know how grateful she was. This is just one example of many; I truly admire all of my co-instructors, they are kind, compassionate and talented individuals. I am proud to work with them and to call them my friends.
What do you believe to be the biggest factor in being a successful company?
I think for a company like Dragons there are two – Trust and communication. The two go hand in hand. Without trust it would be impossible to run effective courses like Dragons does.
Each instructor brings so much experience and insight into their work. We design unique courses and go to places where other people don't go - that takes a lot of trust from our superiors (and from the parents who entrust us with their children).
Dragons Admin trust us to make rational judgement calls in the field so that we can keep our students safe and engaged. It's a huge responsibility, really.
We also have an open and direct line of communication between the iTeam and Admin before, during and after each course. We communicate our suggestions, movements, changes, concerns, requests, feedback… the lot, via email, phone, and text messages.
This means that we can talk about our courses with our Program Directors and Risk Managers openly and honestly, which, overall ensures that the students get the best experience possible. I really believe that without these two pillars, trust and communication, Dragons programs would have a very different feel to them.